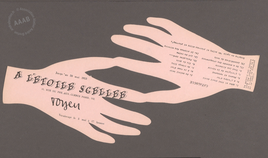 Toyen
mai 1953
Author
Galeriste À l'étoile scelléeBy (artist) Marie Cerminova, dite ToyenText by Guy Doumayrou, Jacqueline Duprey, Georges Goldfayn, Jindrich Heisler, Ado Kyrou, Gérard Legrand, Bernard Roger, Jean Schuster, Dolfi Trost, André Breton, Jean-Louis Bédouin, Jean-Pierre Duprey, Benjamin Péret
Description
Carton d'invitation pour l'exposition Toyen organisée à l'Étoile scellée du 5 au 30 mai 1953.
C'est une véritable anthologie en miettes qui nous est présentée ici, avec cette collection de préfaces et de cartons d'invitation qui couvre l'ensemble de l'après-guerre. On peut y lire des reproductions de la plupart des peintres aimés de Breton, ainsi que des textes signés de Péret, de quelques autres, et bien sûr du poète lui-même : à ce titre, on peut considérer que certaines de ces feuilles volantes sont des manières d'éditions originales de nombre de textes réunis plus tard dans Le Surréalisme et la peinture. On notera en particulier celui sur Molinier, plus nourri que les autres. [site Atelier André Breton, 2005]
Toyen, mai 1953, main découpée, textes de Breton, Péret, Duprey, etc. [catalogue de la vente, 2003]
Catalogue
1. Même si tout était écrit
2. Au soleil noir
3. À l'arbre d'or
4. À la roue d'or
5. Nouent et renouent
6. Au visage bleu
7. L'Origine de la vérité
8. Ile de Sein
9. Tous les éléments
10. Puis, plus tard...
11. On a entendu des craquements
12. Loi du calme
13. Lavandières de nuit
14. Le silence des miroirs
Dessins du cycle « Ni ailes ni pierres : Ailes et pierres »
See also
1 Work
False

Click to order the image
-

Bulletin de souscription d'un exemplaire du recueil de dessins de Toyen.
Deux images, une notice descriptive, des œuvres associées.