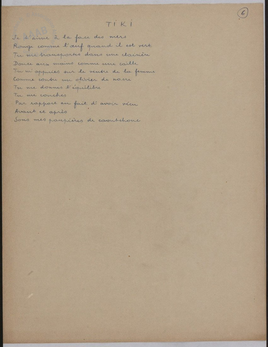 Description
Manuscrit autographe d'André Breton non daté, non signé.
Parus dans les Poèmes de 1948, ces deux textes ont pour objet des figures primitives. Les Korwar de Nouvelle-Guinée sont des pièces en bois sculpté, tout comme la plupart des Tiki de Nouvelle-Zélande. L'invocation à ces dieux primitifs n'est pas dénuée d'humour, et le lecteur notera dans «Korwar» quelques traits discrètement décochés contre la morale de l'action développée par les existentialistes. [site atelier André Breton, 2005]
Poème autographe, sd (1948).
1 page in-4° manuscrites à l'encre bleue d'un poème titré «Tiki» par Breton :
« Je t'aime à la face des mers, rouge comme l'œuf quand il est vert »... [catalogue de la vente, 2003]
Bibliography
André Breton, (Édition de Marguerite Bonnet avec la collaboration de Philippe Bernier, Marie-Claire Dumas, Étienne-Alain Hubert et José Pierre), « Tiki », in «Xénophiles», in Poèmes, Œuvres complètes, tome III, Bibliothèque de la Pléiade, Paris, Gallimard, 1999, p. 416.
Exhibition place
See also
2 Works
False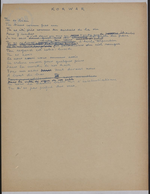 Click to order the image
-

Published in Poèmes of 1948, an undated, unsigned manuscript by André Breton.
False
Click to order the image
-

Numéro 8, publié en mars 1947, de cette revue dirigée par Henri Parisot à Paris.
Deux images, une notice descriptive, un lien.