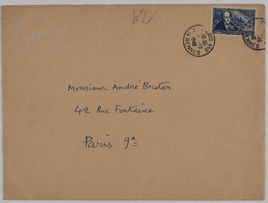 Description
Lettre de Jean Dubuffet adressée à André Breton le 4 octobre 1948 dans laquelle il lui retourne un article de Lo Duca sur l'Art et les fous.
Trois lettres de Jean Dubuffet à André Breton relatives à l'Art brut, datées de l'été et de l'automne 1948, relatent quelques aspects de la vie quotidienne au temps de la Compagnie de l'art brut : visite manquée chez Breton, conversations avec Edmond Bomsel (juriste et mécène), préparation et surveillance des locaux prêtés par Gallimard, recherches infructueuses à la campagne, réunions et dîners du samedi. Remercié pour ses articles sur Joseph Crépin et Victor Hippolyte, André Breton se voit également demander un petit texte sur la folie, qui montrerait bien que le mot est absurde : cela deviendra « L'Art des fous », (mentionné dans la troisième lettre), d'abord prévu pour l'Almanach (qui ne paraîtra jamais) et finalement publié par Jean Paulhan dans les Cahiers de la Pléiade. [site Atelier André Breton, 2005]
Lettre autographe, 4 octobre 1948.
Lettre autographe signée de Jean Dubuffet à André Breton relative à l'Art brut (1 page in-12) et 1 enveloppe conservée :
« J'ai pris bien grand plaisir à cette réunion de samedi avec vous ; ces réunions avec vous me donnent toujours un immense plaisir. Me donnent toujours regain d'entrain pour notre entreprise commune de l'Art brut. Je vous retourne l'article "L'Art et les fous" que vous m'aviez communiqué et comme vous je le trouve très bon et je trouve que ce Lo Duca mérite notre grand cordon de l'Art brut. » [catalogue de la vente, 2003]
See also
1 Work
False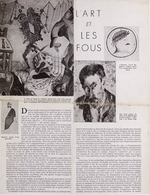 Click to order the image
-
Article de revue écrit par Lo Duca, non daté, non titré.
Trois images, une description, un dossier, un musée.