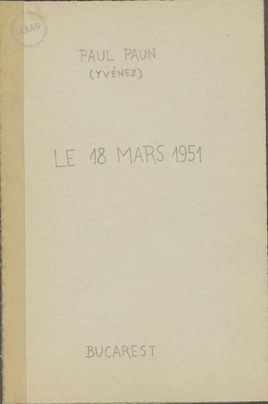 Description
Manuscrit de Paul Paün qui fait pendant à celui de Dolfi Trost écrit le même jour, le 18 mars 1951. Le manuscrit a été envoyé avec une lettre de Ghérasim Luca encartée dans l'exemplaire.
C'est un dossier tout aussi embrouillé que l'histoire qui le sous-tend : la section roumaine du surréalisme, au début des années 1950, s'est transplantée en Israël, où l'on continue de discuter ferme et de participer de près aux activités du groupe. En avril 1951, Trost et Luca sont encore amis, et font parvenir une lettre commune à Breton ; cette lettre est accompagnée d'un texte signé Paul Paün, envoyé de Bucarest et intitulé « Le 18 mars 1951 ». A la fin de l'année, Trost et Luca se sont séparés, et il semble même que des coups aient été échangés. Le motif même de la dispute reste difficile à déterminer, mais tourne sans doute autour des positions politiques révolutionnaires du groupe, de plus en plus difficiles à tenir. C'est ce qu'exprime Trost dans un texte daté du mois d'août, intitulé « L'âge de la rêverie », où il prend acte des difficultés du mouvement à fonder un discours politique - de fait, de plus en plus, ce n'est pas le groupe mais Breton seul, en tant qu'« intellectuel » et que personnalité, qui s'engagera. Le dossier s'achève sur une longue lettre de Gherasim Luca, le poète délaissant la politique pour se livrer au commentaire d'un de ses tableaux. [site Atelier André Breton, 2005]
Manuscrit autographe 18 mars 1951.
 - 3 pages in-12, titrées et datées 18 mars 1951, manuscrit autographe de Paul Paün avec des petits dessins. Le manuscrit est encarté dans une petite chemise cartonnée titrée par Gherasim Luca (enveloppe conservée)
Lettre autographe, 26 avril 1951.
- Lettre autographe signée de Gherasim Luca à André Breton relative à la communication de Paul Paün encartée dans le manuscrit, 1 page in-12 :
« Nous vous transmettons ci-joint la communication de Paul Paün (Yvénez) concernant le rendez-vous du 18 mars 1951, qui vient de nous parvenir de Bucarest dans une lettre confidentielle. Après le coompte-rendu signifiant le retournement de la pensée sur elle-même et celui signifiant le retournement de l'objet sur lui-même jusqu'à sa transparente dissolution, la communication présente ferme (ouvre) d'un geste le cycle dialectique de la négation et de l'autonégation réconciliées dans l'automatisme de l'action. »
L'ensemble est encartée dans une petite chemise cartonnée titrée par Gherasim Luca. [catalogue de la vente, 2003]
See also
2 Works
False
Click to order the image
Manuscrit de Dolfi Trost adressé par voie postale à André Breton en mars 1951.
79 images, une notice descriptive.

False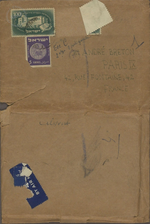 Click to order the image
Manuscrit autographe de Dolfi Trost, pour ce « rendez-vous mental du 18 mars 1951 entre 6 et 7 heures du soir (heure de Paris) avec André Breton (Paris), Gherasim Luca (Jaffa) et Paul Paun (Bucarest) », et collage de Ghérasim Luca pour « Transpercer la transparence ».
40 images, une notice descriptive, une bibliothèque.