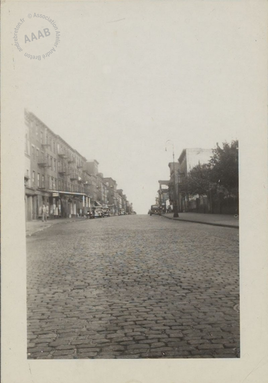 Description
Trois photographies de Henry Miller adressées à André Breton avec un mot, non datées.
Quelques nouvelles de Henry Miller, datées de 1947. Croisé pendant les années 1930 lors de son séjour à Paris, revu à New York pendant la guerre, le romancier américain s'est retiré en Californie, à Big Sur. Il envoie ici à Breton quelques photographies, des dessins, et évoque une aquarelle (on sait qu'il mène à partir des années 1940 une « seconde carrière » de peintre) et d'autres envois expédiés à part. Ses lettres sont écrites pour partie en français, pour partie en anglais. [site Atelier André Breton, 2005]
Trois photographies, non datées.
Une carte postale et trois photographies originales adressées en 1947 par Henry Miller à André Breton sont encartées dans l'exemplaire Le Monde du sexe.
Les quatre sont annotées à l'encre au verso par Miller et deux sont signées :
« Une des rues dont je parlais dans "Printemps noir" (the 14th word ou arrondissement de Brooklyn). » [catalogue de la vente, 2003]
Place of origin
Place of destination
See also
1 Work
False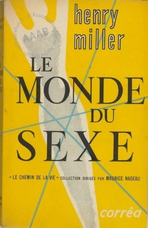 Click to order the image
Essai de Henry Miller publié en 1952 aux Éditions Corrêa à Paris.
Trois images, une notice descriptive, un lien.