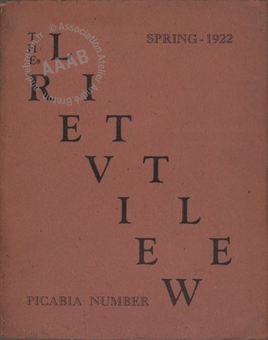 The Little Review - Picabia Number
Quaterly Journal of Art and Letters
Author
People cited Constantin Brancusi, Ben Hecht, Igor Stravinsky, Jean CocteauEdited by Margaret Anderson, Ezra PoundIllustrated by Francis PicabiaText by Sherwood Anderson, Jean Crotti, Muriel Draper, Louis Gilmore, William Jitro, Georges Ribemont-Dessaignes, John Rodker, Gertrude Stein, Allan Tanner, Margaret Anderson, Guillaume Apollinaire, Jean Cocteau, Mistinguett, Francis Picabia, Tristan Tzara
Description
Revue littéraire américaine fondée en 1914 par Margaret Anderson.
Numéro spécial Picabia comprenant 18 reproductions d'œuvres du peintre. Entre autres, textes d'Apollinaire, Tzara, Picabia, Croti, Ribemeont-Dessaignes, etc. [catalogue de la vente, 2003]
Table of Contents
Francis Picabia - Orgue de Barbarie
Gertrude Stein - Vacation in Brittany
"Christian" - Paintings
Guillaume Apollinaire - Aesthetic Meditations, I
18 reproductions of the work of Francis Picabia
Tristan Tzara - Cinema calendrier du coeur abstrait
Jean Cocteau - Cocteau saluant Picabia
Jean Cocteau - Cocteau saluant Tzara
John Rodker - Southern syncopated Singers
Os-Anders - Karen: A novel
Photographs of Stravinsky, Brancusi, Ben Hecht, Jean Cocteau
Louis Gilmore - Nocturne
Sherwood Anderson - The work of Gertrude Stein
Mistinguett - À la notinière de--
Muriel Draper - Loose Leaf Products
Muriel Draper - America
Margaret Anderson - Discoveries of Great Minds
G. Ribemont Dessaignes - Confiteor
Francis Picabia - Anticoq
Jean Crotti - Tabu
Notes:
jh - Dada
jh - Exposé
Allan Tanner - Shuffle Along
William Jitro - The Resurrection and the Life
jh - The "Art season"