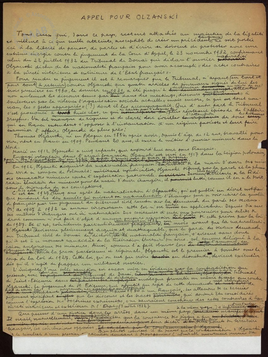 Description
Manuscript of Andre Breton dated February 4th, 1933, which would appear in the weekly, Lectures du soir (Evening Readings), February 5th to 16th, 1933.
Dated February 4th 1933, the manuscript, "The Call to Olszanski," written by Breton, was commissioned by the Olszanski committee and appeared in the Lectures du soir (Evening Readings), a left-wing weekly publication. Olszanski, a Polish laborer, was deprived of his French nationality by a court who was said to be directed "[by] the price of its patron." His case was supported by a vast movement, motivated particularly by the French daily, L'Humanité (Humanity). It is in the name of the law that Breton protests the court's decision, nevertheless the article is to be read with a revolutionary perspective, which reveals that, despite the surrealist rupture with Aragon and the Communist Party, the group did not disappear from political action.
Manuscript with signature, February 4th, 1933.
-Manuscript dated February 4th, 1933 and signed by André Breton, 2 pages folio in-4° are in ink, with deletions and corrections.
"The Olszanski Committee commissioned this text from Breton for Lectures du soir (Evening Readings), which qualifies as a "weekly wave of the left" and was published between February 5th-16th, but was "edited, toned-down, and polished." [...]
"Thomas Olszanski, of Polish origin, secretary of the United Federation of the Underground, was faced with governmental repression because of his union activity. Naturalized French in 1922, he had been deprived of his French nationality "on the decision of the court in obedience to the coal companies." (La Pléiade, Volume 2, Alentours I, p. 521- 524, and various notes, p. 1629-1630.) [Auction catalogue, 2003, André Breton website, 2014]
Bibliography
André Breton, (Édition de Marguerite Bonnet avec la collaboration de Philippe Bernier, Étienne-Alain Hubert et José Pierre), [Alentours I], Œuvres complètes, tome II, Bibliothèque de la Pléiade, Paris, Gallimard, 1992, p. 521-524, et 1629-1630.