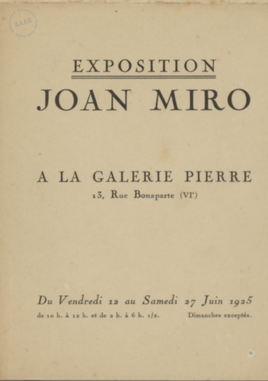 Description
Catalogue de la première exposition Joan Miró organisée par le groupe surréaliste en juin 1926 à la galerie Pierre, avec une préface de Benjamin Péret.
Arrivé à Paris fin 1924, Miró est rue Blomet le voisin d'André Masson qui lui a expliqué tout le bien qu'il pensait de Breton. Celui-ci lui rend visite entre février et mars 1925, et très vite le peintre se trouve associé aux activités du groupe. Sa première exposition, en juin, est préfacée par Benjamin Péret, et le carton d'invitation qui comporte les signatures de tous les surréalistes mentionne également que deux des œuvres prêtées appartiennent à Breton (Le Chasseur et Le Gentleman). [site Atelier André Breton, 2005]
Catalogue de l'exposition Joan Miró à la Galerie Pierre. [catalogue de la vente, 2003]
Table of Contents
Peintures
1. La Ferme (1921-22)
2. Nature morte (1922-23)
3. Fleurs (1922-23)
4. Intérieur (1922-23)
5. Nature morte
6. Les Joujoux
7. Danseuse espagnole
8. Pastorale
9. Terre labourée
10. Le Chasseur
11. Portrait de Mme B...
12. Le Gentleman
13. Maternité
14. La Chevelure
15. Le Baiser
16. L'Ermitage
15 dessins
Exhibition place
See also
1 Work
False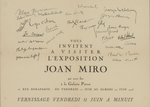 Click to order the image
-
Carton d'invitation à l'exposition Joan Miró de juin 1926 à la galerie Pierre.
Une image, une notice descriptive à compléter.