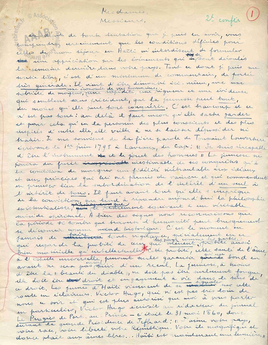 Second Lecture
L'Arbre généalogique du romantisme
Author
Author André BretonPeople cited Nicolas Boileau, Ludwig Achim von Arnim, Honoré de Balzac, Charles Baudelaire, Louis Jacques Napoléon Bertrand, dit Aloysius Bertrand, Petrus Borel, George Gordon Byron, François-René de Chateaubriand, Samuel-Taylor Coleridge, Barthélemy Prosper Enfantin, dit Père Enfantin, Johann Gottlieb Fichte, Charles Fourier, Théophile Gautier, Johann Wolfgang von Goethe, Christian-Dietrich Grabbe, Georg Wilhelm Friedrich Hegel, Friedrich Hölderlin, Victor Hugo, Emmanuel Kant, John Keats, Heinrich von Kleist, Pierre Choderlos de Laclos, Alphonse de Lamartine, Alphonse-Louis Constant, dit Eliphas Lévi, Matthew Gregory Lewis, Karl Marx, Charles-Robert Maturin, Alfred de Musset, Gérard de Nerval, Friedrich Nietzsche, Friedrich von Hardenberg, dit Novalis, Edgar Allan Poe, Anne Radcliffe, Jean-Jacques Rousseau, Donatien Alphonse François de Sade, Louis-Claude de Saint-Martin, Claude Henri de Rouvroy de Saint-Simon, Schelling, Shelley, Henri Beyle, dit Stendhal, Max Stirner, Eugène Sue, Emmanuel Swedenborg, Alfred de Vigny, Edward Young
Description
Manuscript of the lecture from January 11th, 1946; second of the eight given by André Breton in Haiti.
Arrived in Port-au-Prince with Elisa on December 4th, 1945, Breton gave a series of lectures beginning from December 20th. He had planned eleven lectures, but gave only eight. Here we have the draft of the second, published in Inédits I in the third volume of the Pléiade. This "genealogy tree of Romanticism" presents some German authors which were little known at that time (as Novalis and Achim von Arnim) and focuses on the unknown forbears, particularly on those linked with the hermetic and occultist tradition revived notably in Hugo and Nerval. [Atelier André Breton website, 2005]
Lectures (Haiti, Martinique) 1945-1946.
Second Lecture. Autograph manuscript and genealogy tree, January 11th, 1946.
- 10 pages folio in-4° autograph manuscript of the first draft with erasures and corrections:
"It is not betraying any great secret to say that most of the living authors and artists, when listing the cultural heritage of France, are very far from sharing the opinion of most of the teachers of the last two years of high school. With very few exceptions, I always saw them disagree with the idea that the 17th century was doubtless the period culminating in a curve leading towards the staggering decline at the end of the 19th century. For me, I should think that the contrary is true. Without going as far as to underestimate the purity of the language and the high human accents of Racine, let alone the genius of Pascal, I declare that a century of culture, to claim the epithet "great," must be able to put forth much more convincing arguments than the emancipative virtue of a Boileau and of a La Fontaine. […]
"I have drawn attention again and again to the extraordinary growth of the English novel at the end of the 13th century, known as the terrifying novel, gothic novel, or black novel, and to the extraordinary fascination that this literary genre has later impressed on the most serious minds. The first novels by Victor Hugo along with those by Balzac are directly inspired by Lewis' Le Moine and Maturin's Melmoth, the same Melmoth to which Baudelaire referred so often and which became in Les Nuits d'Young a vital source of inspiration for Lautréamont."
Some pages contain additions, others have been cut by Breton. - Genealogy tree of Romanticism, pencil drawing by André Breton (1 page folio in-4°, attached for the auction). [Auction catalogue, 2003]
Bibliography
- André Breton (Édition de Marguerite Bonnet avec la collaboration de Philippe Bernier, Marie-Claire Dumas, Étienne-Alain Hubert et José Pierre), « [Conférences d'Haïti, II] », [Inédits I], Œuvres complètes, tome III, Bibliothèque de la Pléiade, Paris, Gallimard, 1999, pages 212 à 232.
Place of origin