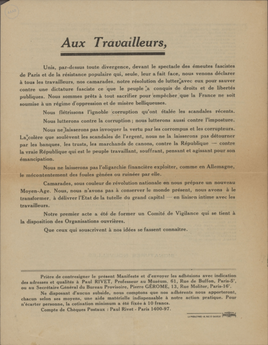 Description
Tract rédigé par Alain, Paul Langevin et Paul Rivet daté du 5 mars 1934.
Faisant suite à la manifestation antiparlementaire du 6 février 1934 organisée par les ligues d'extrême-droite dont les Croix-de-feu du colonel de La Roque, et qui tourne à l'émeute sanglante, cette déclaration collective, datée du 5 mars 1934, est publiée dans le numéro double (n° 7-8) de la revue Commune.
Si les surréalistes n'ont en rien contribué à sa rédaction, il s'agit d'un appel de caractère politique auquel ils se sont ralliés.
« Les premiers signataires de ce manifeste ont constitué un "Comité d'action antifasciste et de vigilance" et élu un bureau provisoire de 14 membres, avec Paul Rivet pour président, Alain et Paul Langevin pour vice-présidents. Au 9 avril, les signataires sont plus de 1200, savants, ingénieurs, médecins, écrivains, artistes, professeurs au Collège de France, professeurs de faculté, de lycées, d'écoles primaires supérieures, étudiants, etc. - et 2300 un mois plus tard. Parmi les signataires, on relève les noms de : André Breton, René Crevel, Paul Éluard, Georges Hugnet, Marcel Jean, Benjamin Péret. » (Communication de Philippe Bernier) dans Tracts surréalistes et déclarations collectives présenté et commenté par José Pierre, Tome 1, 1922-1939, page 254. [Gilles Mioni, site André Breton, 2011]
See also
1 Work
False
Click to order the image
Tract rédigé par Paul Rivet, Alain et Paul Langevin daté 12 mars 1934. 
Trois images, une notice descriptive.