Description
Que ce soit dans sa correspondance ou dans ses essais, l'imbrication de la vie et de l'œuvre d'André Breton est étroite, nous sommes toujours dans sa maison de verre. " Le merveilleux quotidien " du poète ne cesse de s'y constituer, comme le montrent ces très belles lettres à sa fille : le surréalisme, la préparation d'une nouvelle revue ou d'une exposition, les dessins de la main de l'auteur, l'affaire de la grotte de Cabrerets, les réactions indignées à la nouvelle de l'alunissage de la sonde soviétique en septembre 1959... Pour la première fois, grâce à l'autorisation d'Aube Breton, qui a souhaité rendre publique cette correspondance (tout en respectant la clause particulière du testament de son père), nous avons accès à des pans méconnus de la vie de Breton, qui ne pourront que combler ses lecteurs inconditionnels et éveiller la curiosité des autres.
Un entretien de Jean-Michel Goutier avec Nathalie Jungermann pour Florilettres, novembre 2009.
Le manuscrit, relié par Lucienne Talheimer, est conservé à la bibliothèque Jacques Doucet.
Une description claire et simple de l'affaire Cabreret.
See also
2 Works
False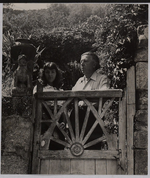 Click to order the image
Un portrait de Breton et Aube à St-Cirq-Lapopie.
Une image, une notice descriptive.
False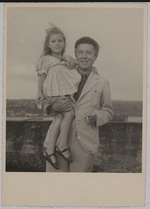 Click to order the image
-

Une photographie d'André Breton avec sa fille prise à Marseille en 1940.
Une image, une notice descriptive à compléter, une exposition, une bibliographie.