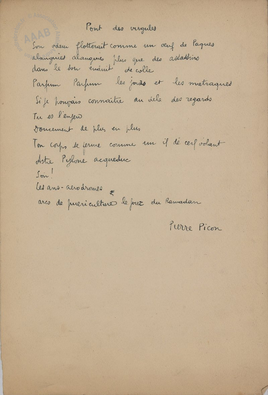 Description
Copie annotée par Robert Desnos d'un poème signé Pierre Picon, non daté.
Breton conserva avec d'autres poèmes des années 1920 ce texte de Pierre Picon, figure discrète du mouvement surréaliste introduit dans le groupe par Jean Carrive, et frère du critique Gaëtan Picon. Ce poème offre un exemple de lyrisme surréaliste (par la construction des images) encore marqué par l'influence d'Apollinaire : la figure de l'invocation, en premier lieu, et ces pointes d'objets « modernes » qui apparaissent dans le poème, comme le « pylone », sont symptomatiques : la génération Breton tente de se dégager d'une influence majeure, contre laquelle Breton ne cessera jamais de se défendre.

Manuscrit autographe.
1 copie manuscrite de Desnos de ce poème signé Pierre Picon, une page in-4°.
See also
1 Work
False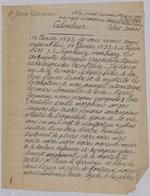 Click to order the image
-
Manuscrit d'un texte signé de Pierre Picon, dédié à Jean Carrive, non daté.
Trois images, une description à compléter.