Description
Poème manuscrit d'Yves Battistini daté de 1946.
« L'amour et la révolution » : c'est sur cette rencontre nécessaire, qui semble à elle seule un résumé parfait de ce qu'a exalté le surréalisme, que s'achève ce poème d'Yves Battistini daté de 1946. Simple envoi ou rencontre de Breton à son retour de New York, rien de durable en tout cas, puisque le nom du (jeune ?) poète n'apparaît nulle part dans les annales du groupe. [site Atelier André Breton, 2005, sic]

Poème autographe signé, mai 1946.
- 3 pages in-4°, poème à l'encre verte titré et signé par Battistini
« Je te salue aube aux yeux d'aubergine, aux seins de mimosa et toi Joss White chanteur de blues, chêne vert aux grappes de lilas je te salue. » [catalogue de la vente, 2003]
See also
1 Work
False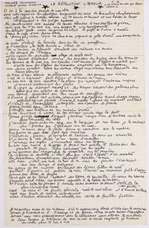 Click to order the image
-

Poème manuscrit d'Yves Battistini adressé à Breton le 30 mai 1946.
Deux images, une notice descritpive, une œuvre associée.