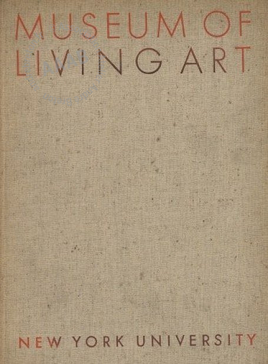 Museum of Living Art
A.E. Gallatin collection
Author
Contributions by Jean HélionBy (artist) Constantin Brancusi, Georges Braque, Charles Biederman, Charles Demuth, Charles Shaw, Charles Sheeler, Paul Cézanne, Giorgio De Chirico, Robert Delaunay, André Derain, César Domela, Gaston Roux, Georges Vantongerloo, Gertrude Greene, Albert Gleizes, Hans Hartung, Joaquin Torres Garcia, John Ferren, John Wallace, John Xceron, Julio Gonzales, Vassily Kandinsky, Paul Klee, Roger de La Fresnaye, Marie Laurencin, Marie Laurencin, Henri Laurens, Lissitzky, Fernand Léger, Alberto Magnelli, Jean Metzinger, Naum Gabo, Nicholson, Amédée Ozenfant, Raoul Dufy, Man Ray, Rupert Turnbell, Kurt Schwitters, Suzie Frelinghuysen Morris, Maurice Utrillo, Théo Van Doesburg, Maurice de Vlaminck, Jean ou Hans Arp, Alexander Calder, Marcel Duchamp, Alberto Giacometti, Juan Gris, Jacques Lipchitz, André Masson, Henri Matisse, Joan Miró, Piet Mondrian, Georges SeuratPreface by A. E. GallatinText by James Johnson Sweeney, George L. K. Morris
Description
Catalogue du Museum of Living Art consacré à la collection A. E. Gallatin et publié par l'Université de New York en 1940.
Catalogue illustré de reproductions en noir d'œuvres de Arp, Braque, Gris, Léger, Miró, Picasso, etc. [catalogue de la vente, 2003] 
Avant le Museum of Modern Art, l'université de New-York acceuillit dès 1927 en ses murs La A.E. Gallatin Gallery, dédiée aux œuvres innovantes de jeunes artistes. Devenue le Museum of Living Art en 1936, elle acceuillait des œuvres de Picasso, Gris, Léger, Miro, Mondrian... Avant d'être transformée en bibliothèque et d'enrichir notamment les collections du Philadelphia Museum of Art. 
Elle fut entre-temps un espace d'expérimentations, de rencontre et de discussion pour les jeunes artistes qui la fréquentaient comme Arshile Gorky, Robert Motherwell, Philip Guston, David Smith, Adolf Gottlieb, et Wilhem de Kooning, et les mit en contact avec le cubisme et l'abstraction. Elle joua ainsi un rôle dans le développement de l'École de New-York.
[Noémie Zinck, site André Breton, 2019]
Table of Contents
- The plan of the Museum of Living Art, by A.E. Gallatin.
- The evolution of abstract art as shown in the Museum of Living Art, by Jean Hélion.
- Paintings by J.J. Sweeney.
- Catalogue.