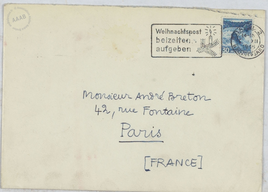 Description
Lettre autographe manuscrite de Georges Blin datée du 6 décembre 1946 et insérée dans le livre de Stendhal, Armance.
Manuscrit sur papier à en-tête des Éditions de la Revue Fontaine ; dans la bibliothèque d'André Breton, la lettre était insérée avec son enveloppe dans Armance, de Stendhal, que Georges Blin avait introduit et annoté pour cette édition de la Revue Fontaine de 1946.
2 pages (2 feuillets) ; 210 x 135 mm ; enveloppe conservée.
See also
1 Work
False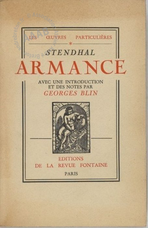 Click to order the image
Armance, roman de Stendhal édité par les éditions de la revue Fontaine.
Trois images, une description, une bibliothèque, des liens.