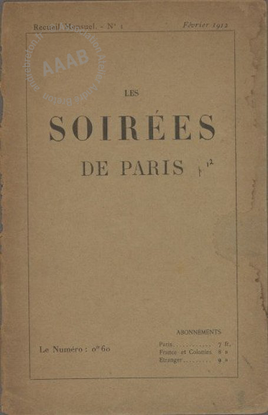 Description
Founded and directed by Guillaume Apollinaire, this review had an ephemeral life-span (1912-1914), inversely proportional to the prestige and influence of its founder.
We find here in this first number some poems and an article on aesthetics, "Du Sujet dans la Peinture moderne," written by Guillaume Apollinaire, as well as many other texts on literary criticism.
Texts by Apollinaire, Jarry, Cendrars etc. and reproductions of works of art by Picabia, Archipenko, le Douanier Rousseau, etc.
N° 1 de février 1912, n°18, n°19, n°20 de 1913, n° 21, 22, 23, 24, 35, 26/27 de 1914.
Table of Contents
Guillaume Apollinaire - Du sujet dans la Peinture moderne
André Tudesq - Deux nuits en Alsace-Lorraine
René Dalize - La Littérature des Intoxiques
Guillaume Apollinaire - Poèmes
André Billy - Scènes de la Vie littéraire à Paris
André Salmon - Observations déplacées
Notes du mois
Sur Chateaubriand
Moréas inconnu
« Les Petits » au Théâtre Antoine
Poème Électoral
Lire sur Gallica