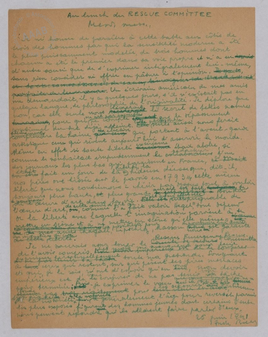 Description
Manuscript of a speech given by André Breton to the 'Rescue Committee' on 27 June 1941.
Published in the 'Alentours Inédits' Section I of the third volume of the Pléiade Œuvres completes, this speech, according to the manuscript, was composed on 25 June 1941 and delivered at a lunch given on 27 June 1941 to new arrivals, the aim of the meal specifically being to promote assistance for Germans who had fled Nazism. We know that Breton was particularly careful not to allow patriotism to slide into nationalism, and this lunch reinforced his position. He was accompanied at the lunch, by Chagall and Lipchitz, amongst others.
Two manuscripts exist: a final copy, owned by a collector, and this one, which is the first draft. [Atelier André Breton website, 2005]
Autograph manuscript signed, 25 June 1941.
- 2 in-8° pages handwritten in green ink of the text delivered by Breton at the lunch of the 'Rescue Committee', in which he is requesting the Committee to continue their commitment to allow Chagall, Masson, and Lipschitz to pursue their work. The first page, entitled 'Au lunch du Rescue Committee', dated and signed '25 June 1941', with deletions and corrections, is a first draft manuscript, and the second page is the final version of the same text, with some corrections. (Œuvres completes, Volume III, pages 177, 178). [Sale Catalogue, 2003]
Bibliography
- André Breton, (Édition de Marguerite Bonnet avec la collaboration de Philippe Bernier, Marie-Claire Dumas, Étienne-Alain Hubert et José Pierre), Au lunch du "Rescue Committee", Inédits I, Œuvres complètes, tome III, Bibliothèque de la Pléiade, Paris, Gallimard, 1999, pages 177-178.