Description
En 1753, Hogarth écrit L'Analyse de la beauté, illustrée de deux planches didactiques - traité esthétique où il détrône le formalisme classique au profit de la liberté baroque.
Il y développe la théorie de la ligne serpentine, symbole suprême de la beauté baroque.
See also
2 Works
False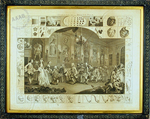 Click to order the image
Eau-forte baroque imprimée en 1798, réalisée d'après une gravure d'Hogarth qui a servi à illustrer son ouvrage l'Analyse de la beauté en 1753.
Une image, une notice descriptive.