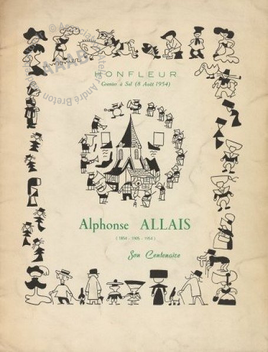 Description
Plaquette collective éditée en 1954, à Honfleur, en hommage à Alphonse Allais.
Plaquette tirée à l'occasion du centenaire d'Alphonse Allais. Textes de René Clair, Breton, Queneau, etc.
Billet autographe signé d'Henri Jeanson relatif à la plaquette, adressé à André Breton. [catalogue de la vente, 2003]
Plaquette in-4° agrafée avec une couverture illustrée par Henri Monier. Cette plaquette regroupe : un hommage de René Clair, accompagné de messages d'André Breton, Raymond Queneau et Curnonsky, ainsi qu'un programme à double page du spectacle La joie d'avoir vécu d'Alphonse Allais, présenté par Henri Jeanson et Henri Spade. Se trouve également, ce qui n'est pas sans charme, un texte d'Alphonse Allais : Patriotisme économique : lettre à Paul Déroulède. [site André Breton, 2019]
See also
1 Work
False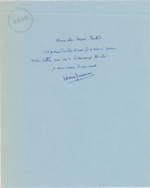 Click to order the image
Lettre de Henri Jeanson adressée à André Breton.