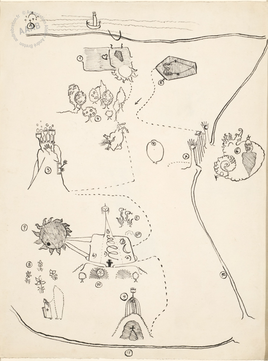 Description
description
Ink drawing by Leonora Carrington, undated (circa 1941).
Exhibitions
- Chichester, Norwich (Sainsbury Center), United Kingdom, Paliant House Gallery, Surreal Friends: Leonora Carrington, Remedios Varo and Kati Horna, 19 June-12 September 2010, no.44. This exhibition also travelled to Norwich, United Kingdom, Sainsbury Centre for Visual Arts, 28 September-12 December 2010.
- Los Angeles, Los Angeles County Museum of Art, Drawing Surrealism, 21 October 2012-6 January 2013. This exhibition also travelled to New York, Morgan Library & Museum, 25 January - 21 April 2013.
- Dublin, Irish Museum of Modern Art, Leonora Carrington: The Celtic Surrealist, 18 September 2013-26 January 2014.
Bibliography
- L. Carrington, "Down Below", VVV, n°4, février 1944.
- S. Aberth, Leonora Carrington: Surrealism, Alchemy and Art, Farnham, Lund Humphries, Hampshire, United Kingdom, 2004, p. 50, n°30 (rep. de la rep. in VVV, 1944)
- S. Aberth, ed., Leonora Carrington: Surrealismo, alquimia y arte, Madrid, Turner, Mexico City, Océano, rep. no. 50
- J. Moorhead and S. van Raay, ed., Surreal Friends: Leonora Carrington, Remedios Varo and Kati Horna, Farnham, United Kingdom, Lund Humphries, 2010, rep. p. 41, no. 44
- Exhibition catalogue, Leonora Carrington, Dublin, Irish Museum of Modern Art and New York, D.A.P/Distributed Art Publishers, 2014, rep. p. 128