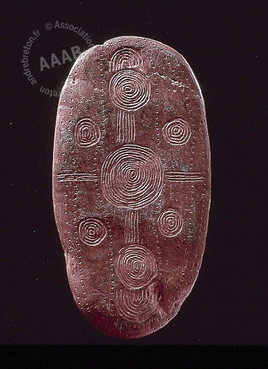 Aboriginal Churinga
Australia
Author
By (artist) Inconnu
Description
An exceptional stone Churinga, engraved with traditional motifs. The concentric circles sybolize the meeting points between the figures, represented by half-circles and one armed with a long line representing a baton or a lance. Pierced dots circumscribe the various motifs, tracing a labyrinth.
It is rare to encounter stone Churingas. The one in the André Breton collection is remarkable and in very good condition.
Bibliography
 Judith Ryan, Philipp Batty, Aux sources de la peinture aborigène Australie - Tjukurrtjanu, Musée du quai Branly, Paris, 2012.
Place of origin