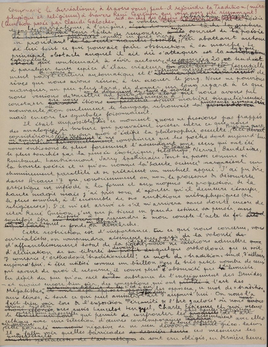 Surrealism at the beginning...
[Surrealism and the Esoteric Tradition]
Author
Author André BretonPeople cited Charles Baudelaire, Charles Estienne, René Guénon, Isidore Ducasse, dit comte de Lautréamont, Lancelot Lengyel, Gérard de Nerval, Arthur Rimbaud, Guillaume Apollinaire, Victor Hugo, Alfred Jarry
Description
Manuscript (in two stages) by André Breton in response to a question about Surrealism, dated 30-31 May 1956.
On the whole, Breton provides a very political interpretation of his interest in Celtic art.
Questioned by the Cahiers d'histoire et de folklores on the way in which Surrealism manifests its relationship with this Tradition (spelled with a capital initial in the question he was asked), Breton categorically reaffirms his fundamental vocation to a heterodoxy that cannot be made subservient to any tradition. However, he adds that these 'free beings', having resisted the invaders and, in particular, their religious concepts, appear to him as worthy of imitation in their refusal of any subjugation. We can thus see looming behind the Gauls both a certain recent history, marked by the ideal of the Resistance, and another even more recent history, in which a small surrealist village against all the odds resists the churches of whatever religion - including the Stalinist one. [Atelier André Breton website, 2005]
Autograph manuscripts dated and signed, 30 and 31 May 1956. 
Two stages of a dated and signed autograph manuscript text, in response to a question from Jean Chevalier and Claude Galocher on Surrealism's relationship to the metaphysical and religious tradition.
1st stage autograph manuscript in black and red ink, with numerous erasures and corrections, dated 30 May 1956 in Paris, and signed, 2 pages: " This was to lead me very quickly to a conviction that the poets whose influence we are still feeling today, almost to the exclusion of others, are those who were most influenced by esoteric thought, such as - in France - Hugo, Nerval, Baudelaire, Rimbaud, Lautréamont, Jarry, and Apollinaire [...] I stated in Arcane 17 that, consciously or not, the process of artistic discovery is subordinate to the form and means of progression of high magic."
2nd stage autograph manuscript in black ink, with erasures and corrections in red ink, dated 31 May 1956 in Paris and signed. 2 pages. [Auction Catalogue, 2003]
Bibliography
André Breton (Édition publiée sous la direction d'Étienne-Alain Hubert avec la collaboration de Philippe Bernier et Marie-Claire Dumas), [Le Surréalisme et la tradition], Perspective cavalière, Œuvres complètes, tome IV, Écrits sur l'art et autres textes, Bibliothèque de la Pléiade, Paris, Gallimard, 2008, pages 945 à 947, notice et notes p. 1415-1416.