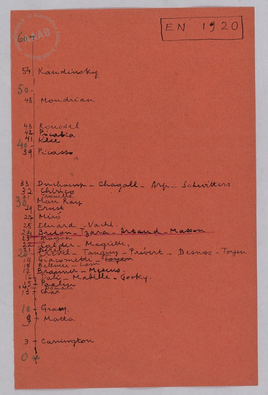 Flair - Chronologie du surréalisme 1916-1953
Instructions générales pour être communiqués à Marcel Duchamp
Author
Author André BretonPeople cited René Alleau, Ferdinand Alquié, Louis Aragon, Braulio Arenas, Georges Arnaud, Georges Auric, Johannes Baader, Johannes Theodor Baargeld, Gaston Bachelard, Anna Balakian, Jacques Baron, Alfred H. Barr Jr, Maurice Barrès, Vilhelm Bjerke-Petersen, Maurice Blanchot, Carlo Bo, Serge Brignoni, Luis Buñuel, Jorge Caceres, Nicolas Calas, Campinchi, Jean-François Chabrun, Charlie Chaplin, dit Charlot, Joseph-Ferdinand Cheval, Juan Eduardo Cirlot, Paul Claudel, Bill Copley, Arthur Cravan, E.-E. Cummings, Garry Davis, Giorgio De Chirico, Robert Delaunay, Enrico Donati, Mirabelle Dors, Jean Dubuffet, Ilya Ehrenbourg, Sergheï Essenine, Luis Fernandez, Marcelle Ferry, Charles Fourier, Jean-Claude Fourneau, Maurice Fourré, Anatole France, Esteban Francès, Sigmund Freud, Varian Fry, Federico García Lorca, Ernest de Gengenbach, dit aussi Jean Genbach, Ghérasim Luca, Camille Goemans, George Grosz, Peggy Guggenheim, Simon Hantaï, Hartford, Raoul Hausmann, John Heartfield, Richard Huelsenbeck, Georges Hénein, Hannah Höch, Max  Hölzer, Javis, K. Wilhelm Jensen, Edgar Jené, James Joyce, Carl Gustav Jung, Zavis Kalandra, Vassily Kandinsky, Paul Klee, Nadine Krainik, Ado Kyrou, Wifredo Lam, Isidore Ducasse, dit comte de Lautréamont, Gérard Legrand, Michel Leiris, Maurice Lemaître, Julien Levy, Georges Limbour, Fernand Léger, Etienne Léro, Pierre Mabille, Guy Mangeot, Filipo Tomaso Marinetti, Roger Martin du Gard, Vladimir Maïakovski, Jean de Menil, Merz, Modigliani, Jules Monnerot, Richard Mutt, Stepan Napiersky, Pierre Naville, Peter Neagoe, Paul Nougé, Gordon Onslow-Ford, Meret Oppenheim, Amédée Ozenfant, Wolfgang Paalen, Louis Pauwels, Koča Popovič, Francis Poulenc, Jacques Prévert, Charles Ratton, Man Ray, François-Henri Raymond, Gustav Regler, Hans Richter, Arthur Rimbaud, Marko Ristič, Henri-Pierre Roché, Maurice Saillet, Saint-Pol Roux, Georges Schehadé, Jean Schuster, Kurt Schwitters, Viktor Lvovitch Kibaltchich, dit Victor Serge, Albert Skira, Chaïm Soutine, Josef Stuna, James Johnson Sweeney, Hugh Sykes Davies, Shûzo Takiguchi, Dorothea Tanning, Michel Tapié, Karel Teige, Josip Broz Tito, Edward W. Titus, Dolfi Trost, Clovis Trouille, Stratis Eleftheriadis, dit É. Tériade, Pierre Unik, Jacques Vaché, Vincent Van Gogh, Louis Vauxcelles, Viroux, Roger Vitrac, Eduardo Westerdahl, Dieter Wyss, Ybenez, Pierre Yoyotte, Michel Zimbacca, Guillaume Apollinaire, Jean ou Hans Arp, Antonin Artaud, Hans Bellmer, Robert Benayoun, Victor Brauner, André Breton, Jean-Louis Bédouin, Alexander Calder, Leonora Carrington, Michel Carrouges, Marc Chagall, René Char, Malcolm de Chazal, René Crevel, Aimé Césaire, Salvador Dalí, Robert Desnos, Oscar Dominguez, Marcel Duchamp, Jean-Pierre Duprey, Paul Éluard, Max Ernst, David Gascoyne, Alberto Giacometti, Arshile Gorky, Louis Poirier, dit Julien Gracq, David Hare, Maurice Heine, Georges Hugnet, Valentine Hugo, Max Jacob, Sidney Janis, Alfred Jarry, René Magritte, André Masson, Roberto Echauren Matta, Édouard-Léon-Théodore Mesens, Joan Miró, Piet Mondrian, Robert Motherwell, Maurice Nadeau, Vitezslav Nezval, Jean Paulhan, Roland Penrose, Francis Picabia, Pablo Picasso, Benjamin Péret, Herbert Edward Read, Raymond Roussel, Pierre Roy, Kurt Seligmann, James Thrall Soby, Philippe Soupault, Jindrich Styrsky, Yves Tanguy, Marie Cerminova, dite Toyen, Léon Trotsky, Tristan Tzara, Tiroux (Chiruu) Yamanaka
Description
« Mon vingtième siècle » - « ou mon demi-siècle » : ce dossier passionnant, établi par André Breton en 1953, est une chronologie commentée, année après année, de l'activité littéraire et artistique qui a eu lieu autour du surréalisme et de ses prémices.
Le projet fait l'objet d'une présentation qui fait partie du dossier, en marge de la double liasse qui à chaque année attribue une feuille. Si l'on reste sur sa faim devant le peu de commentaires donné à certains faits d'importance, comme les ruptures avec Paul Éluard ou Louis Aragon, on est en revanche comblé par la précision de certaines notations qui retraduisent à la perfection l'esprit d'une époque ainsi du sac des bureaux des Nouvelles littéraires par André Breton et Benjamin Péret en 1926, à la suite de calomnies de Martin du Gard.
Expositions, parutions sont minutieusement répertoriées, en une dizaine d'entrées par année l'ensemble compose une chronologie des plus utiles, complétant avantageusement celle de la Pléiade et celle du catalogue de l'exposition de 1991. Manuscrits autographes signés et tapuscrit sous chemise rouge titrée
« Flair 1916 - 1953 ».
 Il s'agit d'une véritable chronologie du surréalisme et du pré-surréalisme établie par André Breton :
- 1916. Cravan, Duchamp et Picabia à New York.
- 1917. Picabia fonde 391, à New York Marcel Duchamp et Man May éditent
The Blind Man
- 1918. Mort de Guillaume Apollinaire.
- 1921. Man Ray invente le rayogramme (photographie obtenue par simple interposition de l'objet entre le papier sensible et la source lumineuse)
- 1938. Au retour du Mexique, rupture d'André Breton avec Paul Éluard qui s'est rapproché des staliniens.
- 1939. Fuyant la persécution nazie, Freud a dû quitter Vienne pour Londres où il meurt. »
38 pages manuscrites à l'encre noire et datées de 1916 à 1953 à l'encre rouge par André Breton, du même texte, avec quelques ratures.
- 38 pages d'un tapuscrit reproduisant le manuscrit précédent
- 1 page (27, 9 x 12,4 cm) manuscrite à l'encre par Benjamin Péret concernant les années 1947-1955.
- 5 pages d'un tapuscrit sur papier rose titrée :
« Surrealism/Flair Annual 1953 et 1954 »
et qui concerne les projets typographiques, de mise en page et d'éditions de ce projet resté sans suite.
Ensemble de documents relatifs à l'insertion dans « Surrealism / Flair Annual 1953 » de l'« Alphabet » de Jindrich Heisler (mise en page de Pierre Faucheux), l'ensemble dans une chemise cartonnée titrée à l'encre par Breton :
« Instructions générales »

- 2 pages de la copie d'une lettre tapuscrite d'André Breton datée :
« Paris, march 29, 1953 »
et titrée :
« Translation of letter from André Breton »,
adressée aux Editions Flair Annual.
- 5 pages tapuscrites sur papier bulle jaune, titrées à l'encre :
« Mise en pages de Pierre Faucheux », « Alphabet de Jindrich Heisler », avec ratures et corrections au crayon noir de la main d'André Breton.

- 2 pages tapuscrites sur papier rose avec notes autographes signés de Benjamin Péret et une liste de la main d'André Breton à l'encre de titres de tableaux :
« Prière à Marcel Duchamp de faire photographier en couleur, une toile de L. Carrington. »
| | |
| --- | --- |
| Creation date | 1953 |
| Bibliographical material | 38 pages in-12°, sous chemise titrée « de 1916 à 1953 », manuscrit à l'encre de premier jet, avec de nombreuses ratures et ajouts à l'encre rouge par André Breton, dans une enveloppe titrée « Flair ». 38 pages in-4° d'un tapuscrit reproduisant le manuscrit d'André Breton.\n 1 page A4 manuscrite à l'encre par Benjamin Péret.\n 5 pages in-4° d'un tapuscrit sur papier rose, titré.\n 2 pages in-4° de la copie d'une lettre tapuscrite.\n 5 pages in-4° tapuscrites sur papier bulle jaune.\n 2 pages in-4° tapuscrites sur papier rose avec notes autographes signés. |
| Languages | French |
| Physical description | Ms - encres noire et rouge, crayon bleu |
| Library | |
| Reference | LOT_2365 |
| Keywords | Investigations et Questionnaires |
| Categories | Archives, Andre Breton's Manuscripts |
| Set | [AB's Manuscripts] Miscellaneous Manuscripts |
| Permanent link | https://www.andrebreton.fr/en/work/56600100515110 |