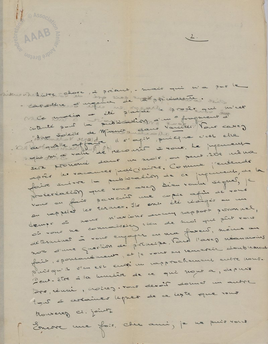 Description
Letter by Albert Valentin to André Breton, or fragment of a letter from June 19th, 1929, together with a typescript in red ink dated October 1928.
Aragon and Breton were in solidarity with their Belgian friend, Albert Valentin, who had offered his help to the French group, and who now asks for it in return. It should be noted that even though this declaration signed by Aragon, Péret, Breton, Desnos, Éluard and Unik speaks less of Valentin's case than one would surmise, it should be taken seriously. Here, a discussion takes place pertaining to the rhetorical form of Ethos – in other words, when orators speak about orators, the surrealists speak about Surrealism. The art of public declaration, which also appears in numerous pamphlets written by the group, was developed in the Dada years and will remain till World War II as one of the highlights of surrealist activity. [Atelier André Breton website, 2005]
Handwritten Letter, signed [June 19th, 1929].
- 1 page 1/4 in-4° handwritten letter in black ink by Albert Valentin to André Breton, in which Valentin thanks Breton and Aragon for taking his side in the lawsuit brought against him for having published a fragment of "To the Sun of Midnight" ("Au soleil de minuit") in an issue of Variétés.
- 1 typed in-4° [Auction catalogue, 2003]