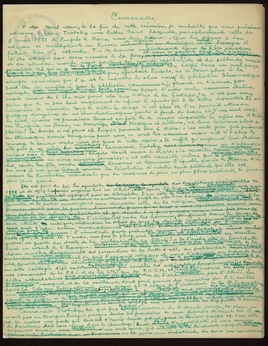 Description
A manuscript by André Breton dated 17 december 1936.
While defending Trotsky on the podium during a meeting organized by the P.O.I. on 17 December, 1936, Breton railed against the 'slanders' the Stalinist regime had used to condemn the former Soviet leader, and didn't hesitate to finding precedents among the greatest authorities - in this case, Marx and Engels. The initial address made to the public soon assumed a singular tone and this moving text becomes addressed to Trotsky himself as Breton tackles history with the aim of affecting the audience rather than proving the point. [Atelier André Breton website, 2005]
Bibliography
André Breton (Édition de Marguerite Bonnet avec la collaboration de Philippe Bernier, Marie-Claire Dumas, Étienne-Alain Hubert et José Pierre), « Déclaration du 17 décembre 1936 au meeting du P.O.I. », Alentours II, Œuvres complètes, tome III, Bibliothèque de la Pléiade, Paris, Gallimard, 1999, p. 1202, notice p. 1802.