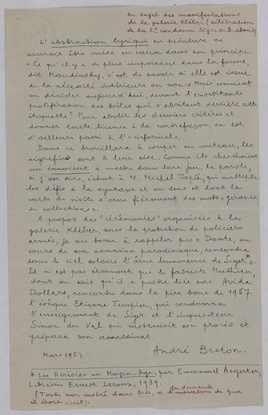 An event at the Galerie Kleber
Author
Author André BretonPeople cited Emmanuel Aegerter, Siger de Brabant, Dante, Jean Fournier, Vassily Kandinsky, Gaston Leroux, Georges Mathieu, Michel Tapié, Étienne Tempier, André Breton, Salvador Dalí, Simon du Val
Description
Manuscrit signé d'André Breton et daté de mars 1957.
En mars 1957, la galerie Kléber organise une série de manifestations commémorant la deuxième condamnation de Siger de Brabant, l'un des adversaires de saint Thomas d'Aquin au XIIIe siècle. Hantaï, Mathieu et Lupesco sont à l'origine de cette initiative, et « l'innocent » Lupié est leur homme de paille : les surréalistes, choqués de l'aspect religieux et délibérément réactionnaire de cette manifestation, répliquent avec le tract « Coup de semonce », dont nous avons ici le brouillon de la main de Breton. [Site Atelier André Breton, 2005]
Autograph manuscript signed by André Breton and dated March 1957. 
1 page in-12 titled and dated in red ink: 
"On the subject of the events at the Galerie Kleber (a celebration of the second condemnation of Siger de Brabant) [...] (a text not inserted, upon request, in Arts, for which it was written)", a manuscript signed by André Breton in ink of the text relating to the ceremonies organised at the Galerie Kleber. 
"Regarding the 'ceremonies' organised at the Galerie Kléber, under the protection of armed police, I merely recall that Dante, during his ascent into Paradise, "met in the solar sky the luminous soul of Siger". [...] In the worst mud of 1957, the fascist Mathieu, a known associate of Avida Dollars, encountered Bishop Etienne Tempier, who condemned Siger's teaching, and the inquisitor Simon du Val, who conducted his trial and prepared his murder." [Sale Catalogue, 2003]
Bibliography
André Breton (Édition publiée sous la direction d'Étienne-Alain Hubert avec la collaboration de Philippe Bernier et Marie-Claire Dumas), « Au sujet des manifestations de la Galerie Kléber [Célébration de la 2e condamn. Siger de Brabant.] », Inédits, Œuvres complètes, tome IV, Écrits sur l'art et autres textes, Bibliothèque de la Pléiade, Paris, Gallimard, 2008, p. 1147-1148, notice p. 1474.