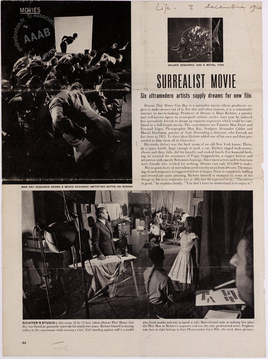 Description
Article illustré paru dans Life, à New York, daté du 2 décembre 1946 [1947 ?].
Breton a conservé dans ses archives ces quelques pages extraites de Life, numéro du 2 décembre 1947, qui commentent la sortie du film surréaliste Dreams that money can buy dû à Hans Richter et à ses vieux complices - Duchamp, Ernst, Man Ray, aux côtés desquels apparaissent des figures moins attendues comme Fernand Léger. On remarque également le nom de Peggy Guggenheim, mécène discrète qui accompagna et aida les surréalistes pendant la guerre. [site Atelier André Breton, 2005]
See also
1 Work
False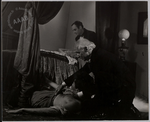 Click to order the image
Photographie du film de John Richter réalisé en 1947.
Une image, une notice descriptive.