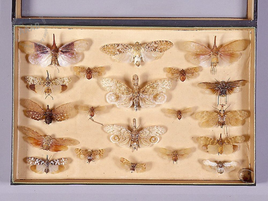 Boîte de flugores
Boîte de fulgores
Description
Boîte d'entomologie contenant vingt fulgores

Collection de vingt fulgores, épinglés mais non étiquetés, dans une boîte vitrée.
Bibliography
Bibliographie : Paris, Musée national d'Art moderne / Centre Georges-Pompidou, André Breton, La Beauté convulsive, 1991, illustré p. 73 (photo montrant André Breton assis dans son atelier, vers 1939, sur le mur on aperçoit - parmi d'autres - l'emboîtage ici présenté).
See also
1 Work
False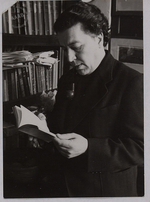 Click to order the image
-
Quatre portraits photographiques d'André Breton rue Fontaine réalisés par Lo Kay vers 1939.
Quatre images, une notice descriptive à compléter.
2 Comments
bonjour ce ne sont pas des papillons de nuit mais des Fulgores (ordre des hémiptères) cdlt
05/04/2012
Merci à Sylvie Delmas pour ce commentaire. Oui, ce sont bien des Fulgores, dont on peut avoir quelques images sur cette page : http://aramel.free.fr/INSECTES10-8bis.shtml
15/04/2012