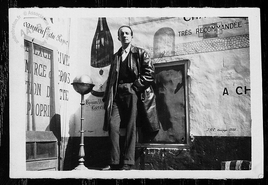 Description
Photographie en pied de Paul Éluard réalisée vers 1938.
Photographie représentant Paul Éluard debout, de face, sa main gauche dans sa poche. Il est vêtu d'un manteau en cuir. Il se tient devant un mur peint sur lequel on peut lire une publicité pour du vin du Châteauneuf-du-Pape.
Bibliography
- Roger-Jean Ségalat (Iconographie réunie et commentée par), Album Éluard, Bibliothèque de la Pléiade, album n°7, Paris, Gallimard, 1968, p. 133
See also
1 Work
False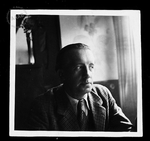 Click to order the image
Portrait photographique de Paul Éluard réalisé vers 1938.
Une image, une notice descriptive à compléter, un musée.