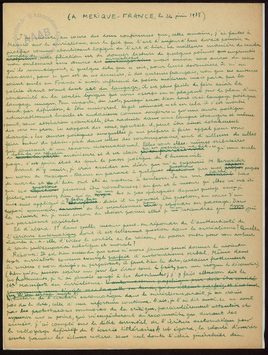 Mexico - France
Author
Author André BretonPeople cited Charles Baudelaire, Berweiler, Georg Wilhelm Friedrich Hegel, Isidore Ducasse, dit comte de Lautréamont, Stéphane Mallarmé, Gérard de Nerval, Arthur Rimbaud, Guillaume Apollinaire, Charles Cros, Paul Éluard, Alfred Jarry, Benjamin Péret
Description
Manuscript of a lecture given by André Breton in Mexico City on June 26, 1938.
Three pages of a handwritten manuscript. Today's art is the logical outcome of that of yesterday: this is the historical perspective with which Breton starts this lecture given in Mexico. He then responds to more current questions, those that he seems to have posed to his audience: the powers and limits of automatic writing and the capacity of a revolutionary art to be sustained over time. Hegel's thought is once again at the centre of his own reflections. [ Atelier André Breton website, 2005]
*This entry was translated from the French by Michael Richardson.