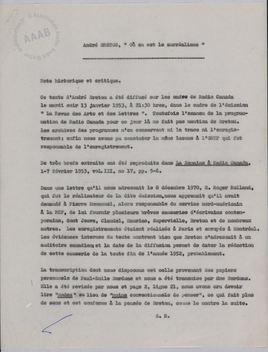 Description
Tapuscrit d'un entretien accordé par Breton à la radio canadienne le 13 janvier 1953.
Précédé d'un fragment manuscrit (repris à la fin du texte dactylographié) et d'une note signée G.R. expliquant précisément les conditions de sa diffusion, cet entretien accordé par Breton à la radio-télévision canadienne en 1953 met l'accent sur Arcane 17, écrit au Canada, et sur certaines expériences précisément liées au séjour canadien de Breton. L'ensemble de la « causerie » est destiné à des auditeurs ne connaissant pas très bien ni le surréalisme, ni la situation exacte du monde intellectuel français. [site Atelier André Breton, 2005]

Tapuscrit et manuscrit autographe, sd (1952).
- 5 pages in-4° tapuscrites titrées « Où en est le surréalisme », dont les 16 dernières lignes, reproduisent le texte du manuscrit de Breton ci-joint (1/4 de page in-4°). Une note tapuscrite précise qu'il s'agit d'un texte diffusé sur Radio-Canada :
« J'ai beaucoup regardé les oiseaux dans cette île de Bonaventure qui est au large de Percé ; je ne les ai jamais tant écoutés, et si bien entendus, que dans la forêt canadienne. »
(La Pléiade, Tome III, Alentours II, « Où en est le surréalisme ? », dernier paragraphe, page 1095)
- 1/4 page in-4°, manuscrit autographe d'un texte incomplet relatif à l'Ile Bonaventure. [catalogue de la vente, 2003]
Bibliography
André Breton (Édition de Marguerite Bonnet avec la collaboration de Philippe Bernier, Marie-Claire Dumas, Étienne-Alain Hubert et José Pierre), « Où en est le surréalisme ? », Alentours II, Œuvres complètes, tome III, Bibliothèque de la Pléiade, Paris, Gallimard, 1999, p. 1092-1095, notice p. 1463-1464
See also
1 Work
False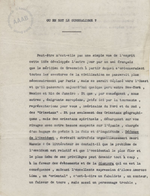 Click to order the image
-

Tapuscrit sans nom d'auteur [André Breton], non daté [décembre 1944].
11 images, une notice descriptive, des œuvres associées, une bibliographie.