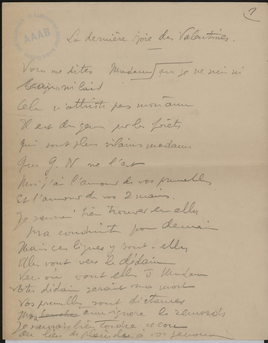 Description
Poèmes transcrits sur un manuscrit, sans doute de la main de Robert Desnos [?]
Copier des poèmes... on connaît la légende de Breton, recopiant l'unique exemplaire des Poésies de Ducasse sur l'exemplaire de la Bibliothèque nationale... Ici, outre Lautréamont, ce sont Germain Nouveau, Charles Cros, Villon et Baudelaire qui réapparaissent pour venir s'incorporer à la culture vivante des surréalistes. La pratique de l'anthologie, qui débouchera sur celle, fameuse, de l'humour noir, se fait jour dès les revues des années 1920 ; le Manifeste du surréalisme poussera cette logique à son terme en « surréalisant » les illustres ancêtres que les surréalistes commencent ici à exhumer. [site Atelier André Breton, 2005]
La notice de 2005 suggère qu'il s'agit de « copies » de poèmes qui auraient été faites selon une propension du surréalisme à composer des anthologies ou à recourir à d'amples citations, comme Breton le fait dans le Manifeste.
Ce sont en vérité des pastiches créateurs, des sortes de réinvestissements pratiqués sur des textes anciens. Et, dans le cas de Baudelaire, par une démarche au second degré, Desnos attribue la réécriture à Lautréamont. [Étienne-Alain Hubert, 2017]
See also
1 Work
False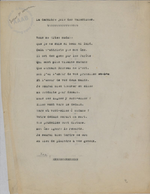 Click to order the image
-
Version tapuscrite de poèmes choisis par Robert Desnos [?].
Sept images, une notice descriptive.