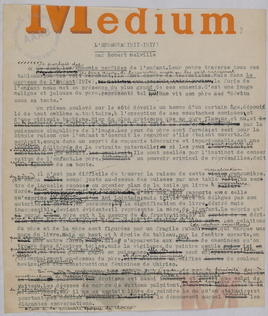 Description
Tapuscrit d'un texte d'André Breton sur Chirico publié dans un numéro spécial de la revue Métapsychique, intitulé L'Art et l'occultisme.
Revenant à la fin de 1953 sur un tableau qui l'obsède depuis longtemps, Breton donne dans ce fragment d'une lettre à Robert Amadou publiée dans le n°37 [sic] de la revue Métapsychique un commentaire pénétrant du Cerveau de l'enfant. Le tableau de Giorgio de Chirico déjoue toutes les interprétations, se contentant de mettre en scène - et ici les allusions au théâtre et au cinéma sont claires - une situation à la fois expressive et illisible.
Breton, critique d'art, est de ceux qui admettent la différence structurelle des langages plastiques et littéraires, qui tentent de moduler la prose jusqu'à lui faire toucher le mystère plastique, mais qui s'avouent battus quand le langage verbal ne parvient plus à s'approcher du mystère. [Site Atelier André Breton, 2005]

Tapuscrit annoté, non daté.
1 page in-4° tapuscrite sur papier à en-tête de Médium, avec ratures et corrections à l'encre de Breton d'un texte titré : « L'épreuve de Robert Melville » et relatif au célèbre tableau de Chirico Le cerveau de l'enfant qui a appartenu longtemps à Breton :
« Dans le Cerveau de l'enfant, la furie de l'enfant nous met en présence du plus grand de ces ennemis. C'est une image maligne et jalouse du père. [...] Les yeux du père sont fermés. Et ceci pour la simple raison que l'enfant n'oserait le regarder s'ils étaient ouverts. » [catalogue de la vente, 2003]
Bibliography
La Revue Métapsychique, n° spécial [27], « L'Art et l'Occultisme », Paris, 1954.
André Breton (Édition publiée sous la direction d'Étienne-Alain Hubert avec la collaboration de Philippe Bernier et Marie-Claire Dumas), « [Lettre à Robert Amadou] », Perspective cavalière, Œuvres complètes, tome IV, Écrits sur l'art et autres textes, Bibliothèque de la Pléiade, Paris, Gallimard, 2008, pages 873 à 879, notice et notes p. 1401-1403.
See also
1 Work
False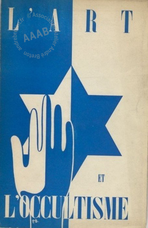 Click to order the image
Tiré à part de la Revue Métapsychique n°27 en janvier-février 1954.
Trois images, une notice descriptive, un lien.