Description
Autograph manuscript in black pencil with a drawing depicting the Arcane 17, undated, unsigned.
Research on astrology and esoterism. Arcane 17 (Arcanum 17) sees the constant emergence of a culture which Breton intently explores. Browsing through the pages of Court de Gebelin, the illuminist, passionate about the idea of a language of origins, equally tries to interpret the symbols of tarots. The central figures of the Star and of the Woman, Isis of whom Mélusine is a reflection, appear here in blatant erudition, before alchemy would restore them to literature. [Atelier André Breton website, 2005].
Manuscript textes with original drawing, no date [1944?]
- 1 page folio in-4°, Court de Gébelin, handwritten in pencil by André Breton, complementary to the preceeding text and relative to the image of the Star and the Nude Young Woman of the 17th Arcanum which is here represented :
"Here we have before our eyes an image no less allegorical, and absolutely Egyptian; it is titled the Star. We see, in effect, a brillant start around which are 7 smaller ones. The lower part of the image shows a woman, kneeling, holding two vases upside down, from which two rivers flow." Original drawing in pencil by André Breton representing The Nude Young Woman of the 17th Arcanum. From the Court of Gébelin, the Tarot is considered as an "Egyptian" emblem of life.
For Arcane 17, Breton was also inspired by Oswald Wirth and of his description in Tarot des Imagiers. (La Pléiade, Volume III, Note, page 1189) [Auction catalogue, 2003]
See also
1 Work
False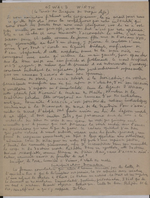 Click to order the image