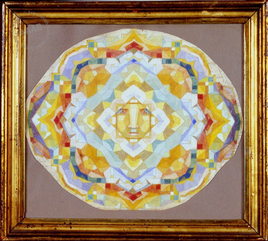 Description
"In parallel to his paintings in the synthetic, Pont-Aven style (and replacing them little by little), Charles Filiger executed for his personal artistic satisfaction what he called "bits of illumination" or 'small works', and what have come to be called his Notations chromatiques...These Notations chromatiques represent about a third of his work, and very few are dated [...]" (Saint-Germain-en-Laye, Musée départemental du Prieuré « Symbolistes et Nabis - Maurice Denis et son temps », Filiger, dessins-gouaches-aquarelles, 1981-1982, p. 82-83).
"André Breton discovered his work in 1953, and struck by Filiger's message, thereafter worked for wider recognition and appreciation of this forgotten talent.
In the preface-manifesto for the exhibition Dessins symbolistes at the Bateau Lavoir in 1958, and reprinted under the title 'Du symbolisme' in Le surréalisme et la peinture published by Gallimard in 1965 (pp.357-362), André Breton spoke of 'painting which aspires to re-create the world as a function of the inner needs of the artist.'" Alain Jouffroy (« La collection André Breton », In : L'œil, n° 10, octobre 1955, pp. 32-39).
Bibliography
- André Breton, Le surréalisme et la peinture, Nouvelle édition revue et corrigée 1928-1965, Paris, Gallimard, 1965, rep.p. 359
- Strasbourg, Musée d'art moderne à l'Ancienne Boucherie, Musée Historique, Charles Filiger, 1863-1928, (présentation et analyse de l'œuvre par Mira Jacob), 1990, p. 99
- Paris, Musée national d'art moderne - Centre Georges Pompidou, André Breton, la beauté convulsive, 1991, rep. p. 438