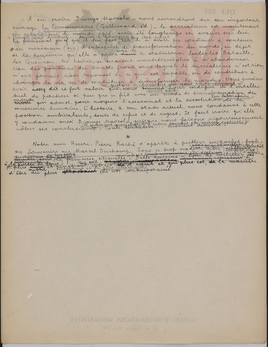 Description
Manuscript of two texts published as a brief in the review Medium, November 1953.
Medium, new series: from the bulletin of "surrealist information," to a real "magazine," in the autumn of 1953 to which André Breton continues to contribute. Dionys Mascolo, author of a book on communism that harshly analyzes the position of the surrealists within the social revolution, is reported on without hostile criticism, while the author Henri-Pierre Roché is excessively disparaged for not giving a better account of Duchamp's work. The first article will appear in Perspective cavalière (The Cavalier's Perspective) under the title « À la bonne heure »
("At the right time"), the second only appears in the first issue of the journal before being included in Volume III of the Pléiade. [Atelier André Breton website, 2005]
Autograph manuscript, nd [1953]
- 1/2 page, folio in 4 ° of two texts, handwritten in black ink by Breton, with markings and corrections on the back of a letterhead of Medium.
Text 1. "To echo Dionysus Mascolo - we will return to his important work, Communism (Gallimard) - Surrealism is now behind the world after being a long time ahead of it."
Text 2. "Our friend Henri-Pierre Roché is preparing to publish a pocket book of his memories of Marcel Duchamp ..." This last text appeared under the title "By infra thin" in the issue of Medium no. 1, November 1953. [Auction catalog, 2003]
The text "At the right time" printed in Medium ends with another sentence of Dyonis Mascolo: "There is no intellectual communist possible, there is no non-communist intellectual possible; each one trying to get out of this contradiction by his own means." Breton adds: "This is our greatest concern." Note that the Pléiade cuts one sentence from Mascolo's text." [Jacqueline Chénieux-Gendron, 2016]
Bibliography
Texte 1.
- André Breton, « À la bonne heure », Médium, communication surréaliste, n°1, novembre 1953, p. 2
- André Breton (Édition publiée sous la direction d'Étienne-Alain Hubert avec la collaboration de Philippe Bernier et Marie-Claire Dumas), « À la bonne heure », Perspective cavalière, Œuvres complètes, tome IV, Écrits sur l'art et autres textes, Bibliothèque de la Pléiade, Paris, Gallimard, 2008, p. 864-865, notice p. 1398
Texte 2.
- André Breton, « Par infra-mince », Médium, communication surréaliste, n°1, novembre 1953, p. 15
- André Breton (Édition de Marguerite Bonnet avec la collaboration de Philippe Bernier, Marie-Claire Dumas, Étienne-Alain Hubert et José Pierre), « Notes publiées dans Médium (revue) », Alentours II, Œuvres complètes, tome III, Bibliothèque de la Pléiade, Paris, Gallimard, 1999, p. 1103, notice p. 1467