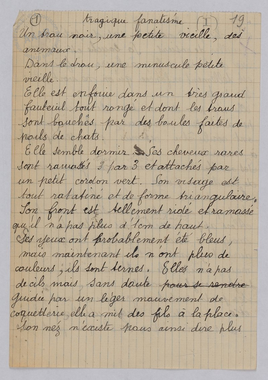 Description
Manuscrit autographe de Gisèle Prassinos, datant environ de 1935.
C'est par l'intermédiaire de son frère Mario Frassinos que la jeune Gisèle Prassinos est présentée à Breton, en 1934. Les « écrits de Mlle Prassinos, 14 ans » frappent le lecteur d'aujourd'hui, comme ils durent frapper le poète, par l'assimilation absolue de l'esprit surréaliste. La fraîcheur de l'enfance, alliée à un talent certain (et à une orthographe beaucoup plus sûre que celle de Desnos et Baron, par exemple...) font des petits textes collectés ici (poèmes, bribes de récits, nouvelles) une illustration parfaite de ce que pouvait être un surréalisme de deuxième génération, dégagé des contraintes de la conquête et du poids de l'expérimentation. C'est un écrivain en liberté que cette petite fille, capable par ailleurs de fantasmes cruels (« petites filles violées au petit matin »). Les alliances de mots sont la matrice d'une écriture toujours prête à bifurquer, se laissant aller à cette puissance suprême des surréalistes : le hasard. [site Atelier André Breton, 2005]

Manuscrit autographe, [circa 1935].
- « Tragique fanatisme » [première partie] manuscrit autographe, 12 pages in-12
« Donc ce petit homme descendit du buffet tout en dansant et vient se poster devant la vieille qui à cette vue devint écarlate. Ses yeux brillèrent d'un éclat de jus de citron et ses petits cordons de cheveux s'envolèrent. Alors elle se baissa légèrement pour prendre le petit bonhomme dans ses bras et d'un mouvement brusque elle le mit dans sa bouche et l'avala. » [catalogue de la vente, 2003]
See also
1 Work
False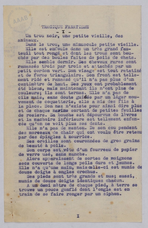 Click to order the image
-
Tapuscrit d'un texte automatique de Gisèle Prassinos datant environ de 1935.
Six images, une notice descriptive.