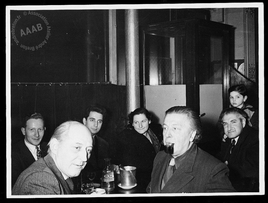 Description
Groupe surréaliste au café de la Place Blanche, c.1950-1951
, 
Diverses annotations manuscrites au dos (images du dos manquantes).
au 1er plan, Benjamin Péret et André Breton ; Jean Schuster, Michel Zimbacca, Flora Moraine (Mme Acker), Jean-Paul Acker (enfant), Adolphe Acker 
[Anne Egger, 2023, Atelier André Breton]
[Ancien titre ; Une photographie du Café surréaliste (le Musset) avec Jean Schuster, André Breton, Elisa Breton et d'autres. (2003)]
Place of origin
Exhibition place
See also
1 Work
False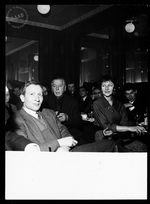 Click to order the image
-

Groupe surréaliste au café Le Musset en 1956
Une image, une description, une exposition, une bibliographie.