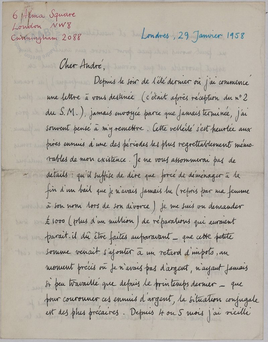 Lettre avec copie d'une lettre de Lancelot Lengyel
Author
Author Jacques BruniusPeople cited Ludwig van Beethoven, Jacques Brunius, Bédier, Béroul, Pierre Champion, R. Chauviré, Chrétien de Troyes, Georges Courteline, Abel Gance, Gryffyd, Lancelot Lengyel, Marie de France, Spike Milligan, Gérard Murphy, Napoléon 1er, Th. O'Rahilly, Eilhart von Oberg, Jean-Jacques Pauvert, John Rhys, Gottfried von Strassburg, Maurice Thomas, Robert Benayoun, André Breton, Lewis Carroll, Édouard-Léon-Théodore Mesens
Description
De Jacques Brunius, l'ami londonien qui l'aidera avec d'autres à monter l'exposition de décembre 1959 chez Daniel Cordier, une lettre de janvier 1958 adressée à André Breton.
Outre quelques nouvelles personnelles plutôt mauvaises (mais on verra en lisant celles de l'année 1959 que le malheureux Brunius n'est pas au bout de ses peines), il lui donne ses impressions de lecteur sur les premiers numéro du
« Surréalisme Virgule Même », comme il l'écrit plaisamment.
C'est surtout à un article de Lancelot Lengyel sur l'art celtique et en particulier sur le mythe de Tristan qu'il souhaite réagir, s'interrogeant notamment sur les présupposés théologiques de L'auteur.
André Breton a conservé ensemble une copie de la réponse de Lengyel et la lettre de Brunius.
Lettre autographe signée de 17 pages de Jacques Brunius à André Breton, relative à Tristan et Iseult et à leur différent concernant le film d'Abel Gance Napoléon. « Mais je ne vois pas sur quoi repose le certificat de chasteté de Tristan et Iseult. Y a-t-il quelque part un règlement mythologique qui interdit à un héros lunaire et une héroïne solaire de s'unir  ;? Il n'y a même à ma connaissance aucun empêchement à ce qu'ils se rencontrent dans les cieux et sur terre. Sinon il n'y aurait Jamais d'éclipse »
« Quant à Napoléon, ce film suffisait à taxer d'imposture opportuniste le vague pacifiste de J'accuse. C'était la pure et simple exaltation de la grandeur militaire en la personne du petit caporal. Je suis tout disposé à croire que la polyvision permettra de faire des films Surréalistes. »
See also
1 Work
False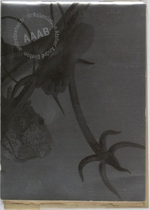 Click to order the image
-

Numéro double 4-5 de cette revue, paru en août 1951 à Paris.
27 images, une notice descriptive, un lien.