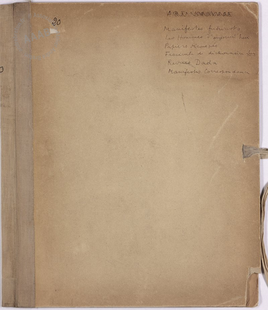 Description
Chemise contient des journaux et revues littéraires parus de 1918 à 1923 : SIC, Nord-Sud et La vie moderne.
Dans cette chemise figurent un certain nombre de journaux et revues littéraires de la fin des années 1910 et des premières années 1920.
De nombreux exemplaires de la revue SIC, de Pierre Albert-Birot, à laquelle Philippe Soupault collabora beaucoup, et où André Breton signa avec Louis Aragon une page intitulée « Treize études », des équivalences presque Dada, déjà, du type Braque et « grammaire », Picasso et « Mes tresses ! ». Nord-Sud est également présente, avec deux numéros de mars et octobre 1918. De La vie moderne, enfin, trois exemplaires datés de 1923.
Pas de trace en revanche du Manifeste futuriste, des Hommes d'aujourd'hui, de la correspondance et du fascicule de dictionnaire surréaliste mentionnés sur la couverture de la chemise. [site Atelier André Breton, 2005]
See also
1 Work
False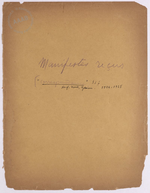 Click to order the image
-

Revue bruxelloise éditée sur papier de couleur entre novembre 1924 et septembre 1925.
24 images, une notice descriptive, un lien.