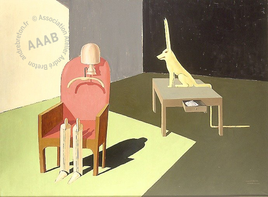 Description
Huile sur toile datée de 1934, reproduite dans la revue Minotaure n° 5 la même année.
Signée, dédicacée et datée en bas à droite : A André Breton Victor Brauner 1934 ; inscrit au dos sur le châssis : Coll. A. Breton 42 rue Fontaine Brauner Nous sommes trahis. Porte une étiquette marquée : Salon des indépendants; n° du catalogue 364 ; et une autre marquée : Brauner Victor 14, Cité Falguière Paris XV Nous sommes trahis nombre total d'oeuvres exposées 2.
Victor Brauner
« Les puissances de l'imagination ne sont aucunement domesticables, elles ne consentent pas à s'épuiser en slogans publicitaires. Celui qui s'y livre tout entier en vient très vite à placer son orgueil ailleurs que dans les petites vanités du "succès" immédiat. C'est le cas de Brauner, que ces puissances ont favorisé dans le surréalisme comme nul autre, au point de lui avoir permis de s'établir depuis quelques années au cœur du "paysage dangereux", en plein domaine hallucinatoire. Là se sont portés à sa rencontre les êtres insolites qui hantent les lieux sous-jacents à la vie humaine, tiennent les fils des correspondances fulgurantes et des prémonitions. L'artiste n'est plus celui qui prend bien garde, en tant qu'homme, à tirer son épingle du jeu ; il est pris lui-même dans le drame. "La terreur venait", a dit Rimbaud, analysant sa propre expérience ("Alchimie du verbe"). Cette terreur, les stratagèmes et les énigmes de la guerre actuelle sont venus l'étendre au monde objectif et c'est pourquoi l'art de Brauner est peut-être celui qui exprime le plus intensément ce monde dans sa dernière phase. Il est frappant que, quittes de toute influence l'un envers l'autre,Victor Brauner et Leonora Carrington en soient venus à le traduire sous le même angle intérieur ou du moins que leur œuvre présente cette singulière parenté de climat. » André Breton (Le surréalisme et la peinture, suivi de Genèse et perspective artistiques du surréalisme et de Fragments inédits, New York, Brentano's, 1945, p. 99).
« Entre chien et loup, nulle expression mieux que celle-ci, telle que la première fois elle s'est chargée de sens panique dans notre enfance, n'assignait ses limites affectives à l'œuvre accomplie par Victor Brauner aux approches de la guerre.
« Le tout est incertain, dérisoire s'est traduit dans la langue de la peinture par le tout est louche qui, de 1937 à 1940, prête ses rideaux tombants, mal écartés, à l'œuvre de Victor Brauner. Plus rien de péremptoire : les personnages se doublent, s'éclipsent d'eux-mêmes, Personne avec toi n'est entré ?
Personne que ma chevelure (Saint-Pol-Roux : "Les Deux Serpents").
« La prunelle magnétique est le seul astre de cette nuit. » André Breton (Le surréalisme et la peinture, nouvelle édition revue et corrigée, 1928-1965, Paris, Gallimard, 1965, pp. 123-124).
« Plus que d'une substance phosphorique, c'est à vrai dire d'une substance totalement immatérielle qu'est formé le personnage de Nous sommes trahis, toile qui fut reproduite dans Minotaure (n° 5, mai 1934, page 48) et qui fut la première de Brauner à figurer dans la revue. L'absence visuelle de celui-ci ne saurait d'ailleurs cacher sa présence occulte que symbolise la réunion sur un fauteuil d'un porte-chapeau, d'un porte-manteau et d'une paire d'embauchoir de bottes. L'assemblage de ces formes en bois, le traitement des ombres portées et la suggestion d'un vide habité décèlent nettement ici l'influence (assez libre, il est vrai) de la peinture métaphysique. » Guy Habasque (Paris, Galerie de l'Œil, Minotaure, 1962, n° 7).
Expositions
- Paris, Galerie de l'Œil, Minotaure, 1962, n° 7
- Paris, Musée national d'art moderne/Centre Georges Pompidou, André Breton, la beauté convulsive, 1991
Bibliography
- Minotaure, n° 5, mai 1934, rep. n°3, s.p.
- Paris, Musée national d'art moderne/Centre Georges Pompidou, André Breton, la beauté convulsive, 1991, rep.p. 318
- Margaret Montagne, L'œuvre graphique de Victor Brauner (1903-1966), Etude et catalogue du fonds d'atelier conservé au Musée d'Art Moderne de Saint-Étienne, thèse de doctorat d'histoire, mention « Histoire de l'art », sous la direction du Professeur Dario Gamboni, volume I bis, annexes, Lyon, Université Lyon II, 1998, rep.s.p., n° 85
See also
2 Works
False
Click to order the image
False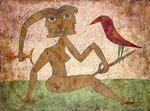 Click to order the image
-
Another most auspicious sign: born of the flaming colours of the most sumptuous of dawns, an admirable crimson bird allows itself to be tamed by greyish-brown woman whose double profile echoes the lion's head. (Lion du double, 1946).