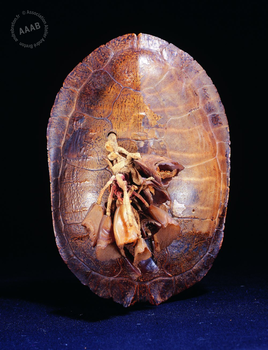 Zuni Leg Rattles
Arizona
Description
Représentant un des sept types de sonnailles existants chez les Zuni, elle est composée d'une carapace de tortue au sommet de laquelle sont attachés, par des liens de cuir, des éléments en corne de sabot de daim.

Portée à la jambe droite par le danseur, cette sonnaille était utilisée lors de toutes les danses Zuni. Une croyance précise que la tortue provenait d'un lac sacré.
Bibliography
- Cf. Diane Fane et al., Objects of Myth and Memory American Indian Art at the Brooklyn Museum, New York, The brooklyn Museum, 1991, rep. p. 118
- André Breton - La beauté convulsive, Paris, Musée national d?art moderne, Editions du Centre Georges Pompidou, 1991, rep. p. 77 (photo Sabine Weil, 1960, dans l'atelier).
| | |
| --- | --- |
| Languages | French |
| Physical description | Long : 16 cm (6 3/8 in.) - Carapace de tortue, corne de sabot de daim, cuir |
| From / Provenance | Collecté par John Clark, Heye Foundation n° d'inventaire 01/4438 et échangé à Julius Carlebach le 4 mars 1946. |
| Place of origin | |
| Size | 16,00 cm |
| Breton Auction, 2003 | Lot 6176 |
| Keywords | Indigenous peoples of the Americas, Arizona, organic items, Ceremonial Art |
| Categories | Native Americans, Etnographical Art, Hopi and Zuni |
| Set | [AB's Manuscripts] Notebook Indians Hopi |
| Permanent link | https://www.andrebreton.fr/en/work/56600100141750 |