Description
Huile et collage sur toile de Salvador Dalí daté de 1930.
Cette œuvre est mentionnée dans le catalogue de l'Exposition internationale du surréalisme (EROS) à la galerie Cordier en 1959-1960 comme provenant de la collection André Breton, et y est datée de 1933. [Noémie Zinck, site André Breton, 2019]
Exhibition place
See also
1 Work
False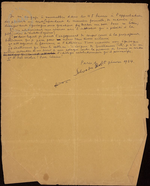 Click to order the image
-
Billet autographe d'André Breton, daté du 25 janvier 1934, signé par Salvador Dalí.
Une image, une notice descriptive, un lien.