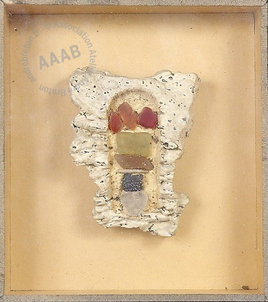 Description
Assemblage de liège et de verres colorés dans une boîte en carton, réalisé par Elisa et André Breton en 1959.
Titré, situé, daté de la main d'André Breton au dos : « Bouquet Ramatuelle, février 1959 » et signé : « Elisa et André Breton. »
Exposition
- Jérusalem, Musée d'israël, Dada Surrealism and Beyond in the Israel Museum, 2007.
Bibliography
- Kamien-Kazhdan, Adina, Surrealism and Beyond in the Israel Museum, Jerusalem, 2007