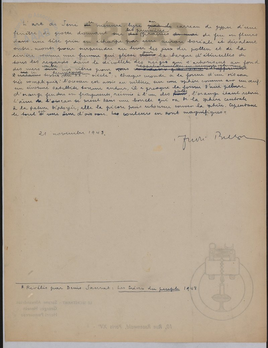 Description
Manuscrit d'un texte d'André Breton pour une exposition d'Edgar Jené à la galerie Nina Dausset en décembre 1948.
Une « âme d'oiseau » aux couleurs magnifiques : présentant la peinture de Jené dans cette petite préface datée de 1948, Breton retrouve les accents de l'écriture automatique pour dire au plus près la vérité d'une œuvre qui, dégagée de toute contrainte rationnelle, est elle-même proche de l'automatisme. [site Atelier André Breton, 2005]

Manuscrit autographe, 21 novembre 1948.
1 page in-4° manuscrite à l'encre bleue au verso d'un papier à en-tête Cause, datée et signée par Breton :
« L'art de Jené ce ménure-lyre au carreau de gypse d'une fenêtre de grotte donnant sur les premières prairies de feu en fleurs dans une tête prise en écharpe pour une aurore boréale...» Quelques ratures et corrections. [catalogue de la vente, 2003]
Bibliography
André Breton (Édition publiée sous la direction d'Étienne-Alain Hubert avec la collaboration de Philippe Bernier et Marie-Claire Dumas), « Edgar Jené », Le Surréalisme et la Peinture, Œuvres complètes, tome IV, Écrits sur l'art et autres textes, Bibliothèque de la Pléiade, Paris, Gallimard, 2008, page 611 à 612, notice et notes p. 1326-1327.
Exhibition place
See also
1 Work
False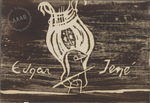 Click to order the image
Carte double signée d'Edgar Jené, adressée à André Breton, non datée.
Deux images, une notice descriptive, un lien.