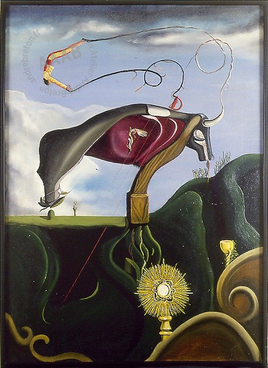 sans titre
Toro y torero (Composition au taureau)
Author
By (artist) Oscar Dominguez
Description
Peinture datée aux environs de 1935 et exposée à la Fundacion Telefonica à Madrid en 2001.
On peut dater cette œuvre aux environs de 1935, grâce au témoignage d'une photo de la collection Iris Farina de 1935 qui nous la présente accrochée au mur au-dessus du chevalet de l'artiste, dans son atelier de la rue des Abbesses, Paris-Montmartre.
(Las Palmas de Gran Canaria, Centro atlantico de arte moderno, Santa Cruz de Tenerife, Centro de arte « La Granja », Madrid, Museo nacional centro Reina Sofia, Oscar Dominguez antologica, 1926-1957, 1996, rep.p.277)

« En 1935, se sentant isolé, Dominguez avait écrit à Breton. Il lui demandait s'il pouvait se rendre aux réunions du groupe surréaliste. Celles-ci avaient lieu au café de la Place Blanche, nous nous y retrouvions avec Breton, Dalí, Tanguy, Ernst... Dominguez prit vite l'habitude de se joindre à nous. » Marcel Jean (Gérard Xuriguera, Oscar Dominguez, Paris, Filipacchi, 1973, p. 7)

« Il invente en 1935 le procédé de la "décalcomanie sans objet", moyen d'expression déjà employé par Victor Hugo, contribuant à la recherche de l'élargissement du champ de la connaissance, but poursuivi par le mouvement d'André Breton. » Gérard Xuriguera (Oscar Dominguez, Paris, Filipacchi, 1973, p. 65)

Pour André Breton, la décalcomanie est une découverte qui « porte sur la méthode à suivre pour obtenir des champs d'interprétation idéaux. Voici retrouvé à l'état pur le charme sous lequel nous tenaient, au sortir de l'enfance, les rochers et les saules d'Arthur Rackam. Il s'agit, une fois de plus, d'une recette à la portée de tous, qui demande à être incorporée aux "Secrets de l'art magique surréaliste" » André Breton (Le Surréalisme et la peinture, Nouvelle édition revue et corrigée, 1928-1965, Paris, Gallimard, 1965, p. 129)

Thanks to a photo from the collection of Iris Farina dating from 1935 which shows this work hanging on the wall above the artist's easel in his studio on the rue des Abbesses, Paris-Montmartre, this painting can be dated to around that year.
Exposition
- Madrid, Fundacion Telefonica, Oscar Dominguez, surrealista, 2001, rep.p. 81, rep. couverture, n° 6
Bibliography
Bibliographie.
- Óscar Domínguez Antológica 1926-1957, Museo Nacional de Arte Reina Sofía, Madrid, 1996, rep. p. 277
- Victoria Combalía, « La venta de Breton: escándalo o azar », in El País, 5 avril 2003, p. 41
- Le Part du jeu et du rêve. Óscar Domínguez et le surréalisme 1906-1957, Musée Cantini, Marseille, 2005, rep. p. 22
Exhibition place