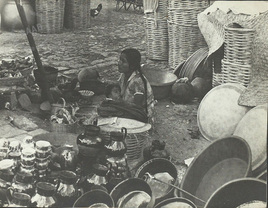 Description
Photographies représentant divers paysages et habitants du Mexique ainsi que Léon Trotski et Diego Rivera.
Seize tirages dont un contretype et une carte postale.
Quatorze des documents portent des annotations manuscrites d'André Breton au dos.
Ensemble faisant partie du dossier utilisé par André Breton pour son article « Souvenir du Mexique » publié dans le Minotaure, n° 12-13, paru en mai 1939. [catalogue de la vente, 2003]
Seule une image de cet ensemble a été reproduite dans Minotaure (voir n°9) 
L'image 1 : Scène de marché
L'image 3 représente Leon Trotski et Diego Rivera,
L'image 5 prise par Daldes montre des pêcheurs qui se trouvent sur le lac Patzcuaro.
L'image 7 représente Juan Andreu Almazan, homme politique mexicain, pris vers 1939-1940 par Alberto Perez Peña.
L'image 9: Crâne de sucre (Mexico). Il est repr. dans Minontaure, n° 12-13, mai 1939, p. 43 (photo de Raoul Ubac)
L'image 11 est prise à Oaxaca.
L'image 13 des enfants est prise à Tehuautepec.
L'image 15 est celle d'un marché à Ixmiquilpan.
L'image 17 est un autoportrait de Frida Kahlo orné d'un cadre en métal gravé formant un papillon. Il est possible qu'il y ait eu un autre portrait dans la partie inférieure du cadre.
L'image 19 montre Diego Rivera le 15 juin 1938.
L'image 21 est une photographie d'un puits aux environs de Guadalajara prise le 15 juillet 1938.
L'image 23 est sans doute la reproduction d'un ex-voto ou un collage, non daté.
L'image 27 montre la pyramide de Montealbán, à Oaxaca. [Anne Egger, site André Breton, 2022]
Raoul Ubac a réalisé les photos des objets mexicains rapportés à Paris par André Breton et Jacqueline Lamba.
Place of origin
See also
2 Works
False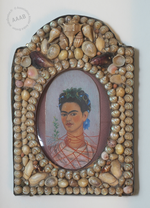 Click to order the image
-
Autoportrait, peinture à l'huile sur cuivre daté de 1938.
Une image, une notice descriptive, une bibliographie, une exposition.
False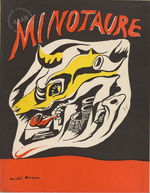 Click to order the image
-
André Breton, Léon Corcuff, Pierre Courthion, Jean Giono, Maurice Heine, Madelaine Landsberg, Georg-Christoph Lichtenberg, Pierre Mabille, Pierre Ménard, Benjamin Péret, Kurt Seligmann
-

Dernier numéro, daté de mai 1939, de la revue lancée en 1933 par Albert Skira.
Trois images, une notice descriptive, une série.