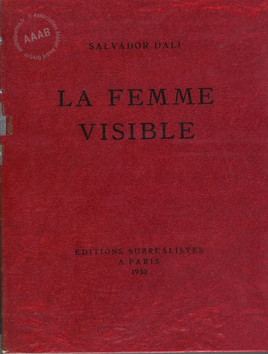 Description
Livre de Salvador Dalí illustré de sept reproductions et d'une eau-forte en frontispice ; exemplaire truffé d'un manuscrit et d'un dessin, paru en 1930 aux Éditions Surréalistes.
Édition originale illustrée de 7 reproductions photographiques à pleine page dont le portrait de Gala.
Un des 14 premiers exemplaires sur Japon nacré celui-ci spécialement imprimé pour André Breton comportant en frontispice une eau-forte originale de Salvador Dalí.
- Envoi autographe à l'encre orangé signé de Salvador Dalí : « Avec la plus paranoïaque inconditionnalité surréaliste, Salvador Dalí. »
- 3 très beaux petits dessins originaux de Salvador Dalí figurent dans les marges dont 2 signés.
- Gravure originale érotique signée et dédicacée à André Breton encartée au format de l'exemplaire.
- Manuscrit autographe signé, titré « Des objets traîtres, de l'activité involontaire », et dessin original de Salvador Dalí, adressés à André Breton encartés dans l'exemplaire (3 pages grand in-4°)
Le manuscrit autographe est illustré de croquis originaux de Salvador Dalí...
« Il s'agit là, ne doute pas, de véritables photographies de réels et impressionnants fantômes. Pourquoi sinon la seule présence d'un de ces êtres attire morbidement et fatalement notre curiosité irrationnelle au détriment de la complication et intérêt même du sujet même de la photo ? Pourquoi cette passion pour ces figures même pas accessoires, comble de l'insignifiance demi obscure, effacée, incroyablement nulle ? Aussi l'ethnographie la plus déchirante sera toute neuve au coin des rues sur le simulacre de peaux de tanneur qui sèchent au soleil. »
- Un grand dessin original à l'encre rehaussé de couleur de Salvador Dalí représente une potence à laquelle est suspendu un objet à caractère érotique faisant face à un autre objet de même nature. [catalogue de la vente, 2003]
| | |
| --- | --- |
| Creation date | 1930 |
| Bibliographical material | Paris, Éditions Surréalistes, 1930. In-4°, sous double couverture argent et translucide rouge imprimée rempliée, étui. |
| Date of publication | 1930 |
| Publication | first publication |
| Languages | French |
| Size | 22,50 x 28,50 x 1,00 cm |
| Number of pages | 80 |
| Publisher | Éditions Surréalistes, Paris |
| Copyright | © ADAGP, Paris, 2005. |
| Breton Auction, 2003 | Lot 341 |
| Keywords | Graphic Arts, Aesthetic, Poetry, Surrealism |
| Categories | Books, poems, fiction, non-fiction, Graphics |
| Permanent link | https://www.andrebreton.fr/en/work/56600100054871 |
See also
1 Work
False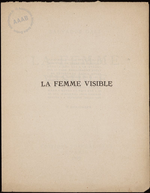 Click to order the image
Épreuves ou tirage non relié d'un texte de Salvador Dali publié aux Éditions surréalistes en 1930.
53 images, une notice descriptive.