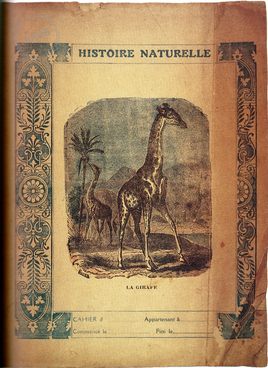 Cahier de notes sur la Science des rêves, de Freud
Cahier "à la girafe"
Author
Author André BretonPeople cited Hans-Christian Andersen, Burdach, Wolf Davidson, Delage, Delboeuf, Henry Havelock Ellis, Fechner, Johann Gottlieb Fichte, Charles Girou de Buzareingues, Johann Wolfgang von Goethe, Haffner, Hannibal, E. W. Hartmann, Hebbel, Georg Wilhelm Friedrich Hegel, Hervey, Hildebrandt, Emmanuel Kant, Isidore Ducasse, dit comte de Lautréamont, Le Lorrain, Lynkens, Alfred Maury, Friedrich Nietzsche, Friedrich von Hardenberg, dit Novalis, Otto Rank, Peter Rosegger, Scherner, Friedrich Schiller, Silberer, Spitta, August Strindberg, Strumpell, Emmanuel Swedenborg, Paul Valéry, Hornby Vold, Johannes Immanuel Volkelt, Maxime Weigand
Description
Texte manuscrit d'André Breton inséré dans le volume La Science des rêves (Alcan, achevé d'imprimer 31 décembre 1926). Il est très largement à la base de l'écriture de la première partie des Vases communicants parus en 1932.
Ce cahier de notes atteste le vif intérêt pris par l'écrivain à la lecture de ce classique de Freud qu'est La Science des rêves ; un passage portant sur le refoulement est même gratifié d'un « Très bien » - sur papier de cahier d'écolier, le fait ne manque pas de piquant. En 1925, André Breton a lu Le Rêve et son interprétation. Ses notes sur La Science des rêves peuvent donc être situées entre 1927 et 1931, au moment de la préparation des Vases communicants dont ces notes constituent une partie du matériau brut, exploité dans la première partie. [site Atelier André Breton, 2003]

Manuscrit autographe, sd [1927 - 1931].
- Dans un cahier d'écolier dit de « la Girafe ». 19 pages in-8°, manuscrit titré « La Science des rêves » avec quelques ratures et corrections où sont résumés par Breton de nombreux passages du livre de Freud dont certains sont cités dans Les Vases communicants. (La Pléiade, Tome II, Les Vases Communicants, Notes page 1393).
(Le premier plat de la couverture du cahier est fendu, sans préjudice pour les quelques notes de Breton au verso).
Ce cahier est encarté par André Breton dans Sigmund Freud, La Science des rêves, édition Alcan de 1926, traduction de Meyerson, à la fin du volume. [catalogue de la vente, 2003]
Bibliography
- Ce texte d'André Breton a été publié en fac-similé dans Folie et psychanalyse dans l'expérience surréaliste, sous la direction de Fabienne Hulak, préface d'Alain Jouffroy, Z'Editions, Nice, 1992.
- André Breton (Édition de Marguerite Bonnet avec la collaboration de Philippe Bernier, Étienne-Alain Hubert et José Pierre), Les Vases communicants, ŒŒuvres complètes, tome II, Bibliothèque de la Pléiade, Paris, Gallimard, 1992, voir les notes, pages 1378-1395.
See also
1 Work
False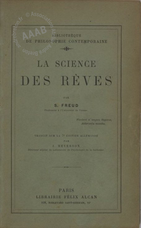 Click to order the image
Essai de Sigmund Freud publié en 1926 par Félix Alcan à Paris.
Quatre images, une notice descriptive, un lien.