Description
Five photographs of Denise Levy, Simone Kahn and Max Morise at Rue Fontaine circa 1929.
Five prints.
Photographs of Denise Levy and Simone Kahn at Rue Fontaine, one of which is with Max Morise. [Auction catalogue, 2003]
See also
1 Work
False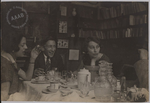 Click to order the image
Un portrait de Simone Kahn, de Max Morise et de Denise Levy prise à table rue Fontaine.
Une image, une description.